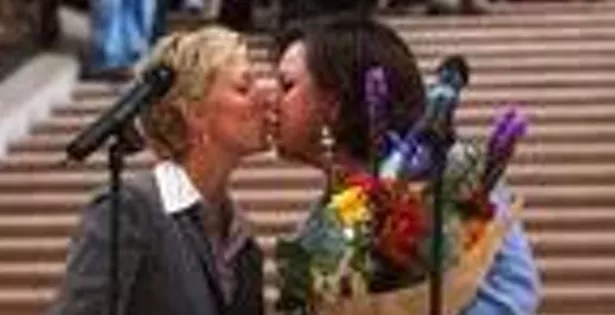 Over a million immigrants came to Canada via Halifax's Pier 21 between 1928 and 1971, but on Jul 16, the city's historic port was flooded with roughly 2,000 gay travellers. Halifax was the second Canadian stop on R Family Vacations' weeklong cruise of the Maritimes, which departed from New York City.
The queer travel company was co-founded by Rosie O'Donnell and her partner Kelli O'Donnell in 2004. Guess who was the designated freelance writer for this story? Why yours truly, naturally. On my quest to catch a glimpse of the bubbly, loud mouth former talk show host I came across the newly opened Java Factory Café (1113 Marginal Road).
"All of our locations (Tantallon and the soon-to-be-opening Dartmouth Crossing) offer scrumptious selections of deserts and sweets including cheesecakes, pies, waffles and fresh baked treats," says owner Janie Felix. "We also offer homemade soups that are gluten-free as well as salads, fresh sandwiches and panini. Our Rueben is a favourite."
The Java Factory is nicely situated beside Garrison Brewery, though one doesn't have to travel far if coffee isn't quite strong enough. Their Halifax menu offers beer and wine, as well as liquored desserts, too. In addition to the rather extensive list of Fair Trade coffees, including: Monsooned Malabar, Mysore Gold Nugget, Kona Hawaiian, Jamaican Blue Mountain and Panama Boquete, the café offers a variety of teas, Italian sodas and smoothies.
"Not only is our coffee roasted slowly, but the type of roast that is develop for the bean type is carefully researched and chosen specifically for the characteristics of the bean," says Louis Zwicker, roastmater. "We are not trying to follow what would be classified as industry norms. If the coffee is meant to be dark, it will be very dark."
Unfortunately I never did find Rosie in the end, though I bet she would have enjoyed the Rueben. All was not lost, as the discovery of the Java Factory and all of its riches put the day in a league of its own.