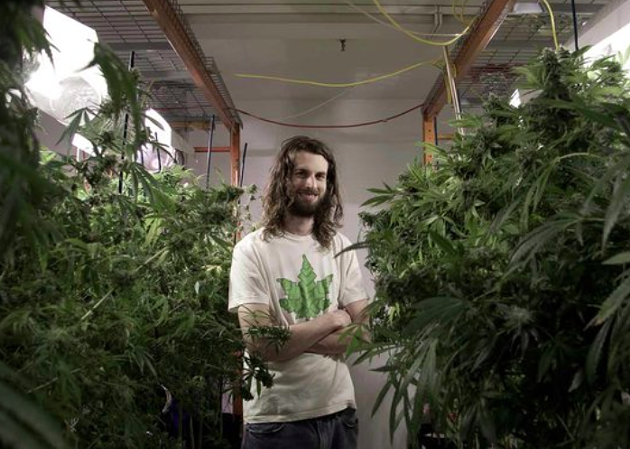 Crown prosecutors have dropped all charges against Christopher Enns that resulted from several police raids on his Farm Assists cannabis centre.
Enns announced the news at a press conference Friday afternoon, at what was supposed to be day one of a constitutional challenge against the legal charges.
"We were looking forward to having the courts make a final decision on this matter, but unfortunately as we approached our hour in court the Crown has decided to withdraw all charges," Enns told a crowd outside the Spring Garden Road courthouse.
In 2013, police
raided the Compassionate Use Club
in Porters Lake and charged business owner Enns with trafficking. A year later, he opened Farm Assists on Gottingen Street, where licensed users could purchase and vape medical marijuana.
Halifax's Integrated Drug Unit raided that business as well—along with Enns' home and production site—and charged him with several counts of trafficking and possession of controlled substances. Then in 2015, Farm Assists was raided once more by police and Enns was once again taken into custody.
But the charges from all three of those incidents are no longer worth
pursuing for
federal Crown prosecutors. Nathalie Houle,
spokesperson
for the Public Prosecution Service of Canada, confirms they were withdrawn this week.
"This is a clear indication from the Crown that they believe there is merit to what we are doing, and there is a lack of merit to the charges before the court," Enns said Friday.
Enns tells The Coast he's "euphoric" about the news.
"I'm really looking forward to buckling down and working with the dispensary and hopefully opening some new locations," he says, noting Farm Assists recently re-started its Porters Lake operation.
"If it wasn't for the fresh charges I got when I got pulled over last week, it would be a big weight off my shoulders."
Police arrested Enns during a
traffic stop earlier this month
, where they seized 2.7 kilograms of cannabis, 148 grams of shatter and 500 capsules of hash oil from his vehicle. He'll be back in court December 11 to enter a plea on those charges.
In the meantime, Enns says he's not worried about the police raiding his business again, calling it a "fruitless effort" at this point.
"Both in terms of public perception and the actual court process."
Farm Assists treats roughly 1,000 individual customers annually, according to Enns.