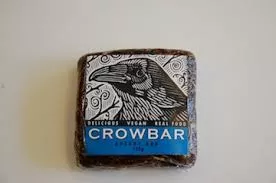 "While it may seem like an unorthodox decision to phase out our flagship product, it wasn't a decision that I made lightly or without a lot of thought," says Breighan Hunsley, the brains and hands behind Crowbar Real Foods about discontinuing it's namesake Crowbar.
Hunsley says while the artisan energy bars—which are made with homemade granola, hand weighed and molded—are wildly successful, they're also labour intensive. "Most people in my position would attempt to scale up but I'm already selling as much as I can feasibly make. Without my own commercial kitchen, I can't meet the needs of wholesale customers or retail partners. In order to keep moving forward, I would have needed to make them smaller, charge more for them, or stop using local or organic ingredients—and I wasn't willing to compromise my flagship product."
Crowbar will still sells its Ravenous bars, its HOWL energy elixir powder and will focus in on Avocado Fudge (check out the Kahlua flavour this week). You can hunt down the remaining Crowbars at Organic Earth Market (6487 Quinpool Road), World Tea House (1592 Argyle Street), Pete's (1515 Dresden Row) and on Saturday at Hunsley's Seaport Farmers' Market table.