NOTE: This week is now over. For the very latest news, please go here. But for an informative look back at exactly how Nova Scotia responded to COVID-19 in realtime, keep on reading.
<!——————————————— ***** END OF TOP INFO ***** ———————————————>
Click for mobile-friendlier version of graph.
Editor's note: In its 28 years The Coast has never been a just-the-facts news service, but for these strange times here are quick-hit updates.
<!——————————————— ***** START OF CAPSULES ***** ———————————————> <!——— START OF DAY ———>
---
Sunday, January 24
<!——— START OF CAPSULE ———>
---
"A low number of cases is encouraging," says premier Stephen McNeil in today's COVID-19 case report from the province. That sounds, well, encouraging, especially when there is only one new case today. However, do you sense a "but" is coming? Because with Friday's announcements that BOTH of the currently known fast-moving C19 variants have been identified in Nova Scotia, AND an Acadia student developed an infection after the standard 14-day quarantine, things are getting unusual.
Sure enough, the premier's quote continues: "but we are seeing that some of the recent cases are more complex than others. It's another reminder that we need to stay vigilant to contain the virus."
The complexity in today's case is that the patient—a Dalhousie student from Nova Scotia, living off-campus in the Central zone—might have caught the disease without travelling or being close with someone who had the 'rona. That's what the province means when it reports, "The case is under investigation."
It may well turn out the new patient has a connection to a previous patient. Public health investigators do contact tracing to re-create a person's movements and interactions, and it can take days of digging to figure out when their path crossed with a C19 carrier. Plus some people lie about who they're hanging out with.
But at first glance, there's no obvious transmission vector. If one isn't found, this will be a case of community spread. And that won't be encouraging at all.
<!——— END OF CAPSULE ———> <!——————— START OF DAY ———————>
---
Saturday, January 23
<!——————— START OF CAPSULE ———————>
---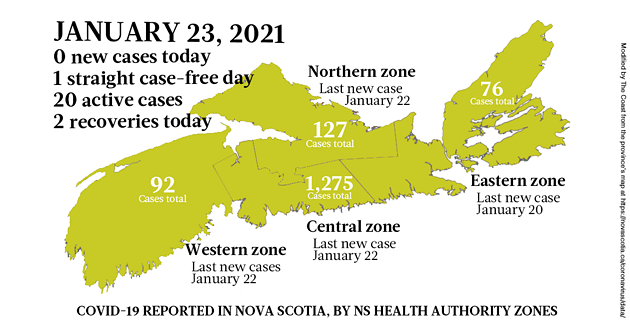 Zero. Nada. Nil. Naught. Zilch.
Nova Scotia is reporting a complete lack of new COVID-19 cases, which is a wonderful way to settle into a quiet, snowy Saturday. "Nova Scotians can be proud of the work they're doing to keep our case numbers low," says premier Stephen McNeil in today's C19 update.
If that makes you feel too good, don't worry. In that same update, top doc Robert Strang delivers a dose of his trademark medicine. "While our new cases each day are staying low, we can't get complacent," he says. "Please continue your vigilance and follow public health measures to protect yourself, your loved ones and your community."
Yesterday the province announced that some, but not all, gathering restrictions are being extended—here's our story about the decision—to at least February 7. Among the limits that are being loosened, starting this Monday, January 25, sports teams can play against each other and arts groups can stage performances (although no audiences/spectators are allowed).

Today the province added another loosening, "to allow mental health and addictions support groups to meet in groups of up to 25 instead of 10, with social distancing," as the C19 update says. "This also comes into effect Monday."
<!——————— END OF CAPSULE ———————> <!———————— START OF DAY ————————>
---
Friday, January 22
<!———————— START OF CAPSULE ————————>
---
Today's big news was also probably inevitable: Nova Scotia has had cases of the fast-moving C19 variants that are sweeping the globe. The "National Microbiology Lab identified two variant cases of COVID-19 in Nova Scotia, one UK and one South African variant, tested in December," says the province's daily virus update. "Both of the cases were related to travel outside of Canada and were reported in Central Zone."
Also pretty inevitable, but utterly routine at this point, the government extended the provincial state of emergency for another two weeks. The SOE's been re-upped every fortnight since it was declared on Sunday, March 22, 2020. Three more times and the emergency will reach the one-year mark.

Stephen McNeil gets one more chance to add an extension two weeks from now, on February 5. But with Nova Scotia's Liberals picking McNeil's successor February 6, it will be up to the new premier to extend it yet again and go for the anniversary! 🚨 🥂 💩
In today's C19 cases, there are four new infections and four patients recovered, so Nova Scotia holds steady at 22 active cases. Three of the cases are routine—a close contact of a previous case in the Northern health zone, and travel-related cases in Central and Western zones. The fourth, which is also in Western and connected to travel, hints at trouble with the whole idea of the two-week quarantine as a disease-stopping tool.
"One of the cases is a student at Acadia University in Wolfville," the province says. "The student had completed the required 14-day self-isolation but tested positive shortly afterward and is self-isolating again."
This seems a good time to quote prime minister Justin Trudeau, who spoke today about the wisdom of taking trips. "My message to Canadians remains clear, no one should be taking a vacation abroad right now," said the PM at a C19 briefing. "Don't book a trip for spring break."
<!———————— END OF CAPSULE ————————> <!—————————— START OF DAY ——————————>
---
Thursday, January 21
<!—————————— START OF CAPSULE ——————————>
---
The province's recently installed COVID-19 data dashboard system is showing one new case today. The province's C19 report emailed to media says there are two new cases. What shenanigans are afoot?
The report has an explanation. "Because the case came in after the cut-off for reporting, it will not appear on our data website and dashboard until tomorrow, Jan. 22," it says.
Both new cases are in the Northern health zone. One is straightforward, tied to travel outside Atlantic Canada, and the patient is in the requisite self-isolation. "The other case is connected to École acadienne de Truro, a pre-primary to grade 12 school in Truro," says the report. School cases are typically announced as soon as they're discovered, the day the test result comes back. This is the case that won't show up on the official count until tomorrow.

The province's update doesn't say anything about the provenance of the infection—if it's travel-related or under investigation as possible community spread—and it doesn't indicate whether the patient is a student, a teacher or what. However, the report does explain the next steps, including the closing of École acadienne through at least next Tuesday, January 26.
"The person was not in school today and is self-isolating. The school will close to allow for deep cleaning, testing and contact tracing, and is expected to reopen to students on Wednesday, Jan. 27. Students will learn from home during the closure and families of the school will receive an update on Tuesday, Jan. 26," the report says. "As with any positive case, public health will be in touch with any close contacts of this case and advise of next steps. Everyone who is a close contact will be notified, tested and asked to self-isolate for 14 days."
We are going to add both Northern zone cases to our map, making it both different from and more up-to-date than the province's version. Tomorrow the province should catch up.
<!—————————— END OF CAPSULE ——————————> <!——————————— START OF DAY ———————————>
---
Wednesday, January 20
<!——————————— START OF CAPSULE ———————————>
---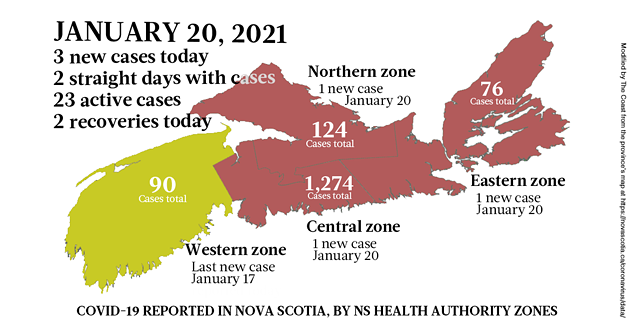 We talked yesterday about Nova Scotia's COVID-19 tally so far in 2021, where the virus came on strong at the start of the year but the humans rallied recently, and through Tuesday the count was all tied up: 75 new infections to 75 patients recovering from the stupid disease. Now we have to let you know that the virus is winning again. The province is reporting three new cases today, and only two patients recovered. There are currently 23 active cases in NS.
One of the new cases is in the Nova Scotia Health Authority's Northern zone—the patient "is a close contact of a previously reported case," says the provincial update—and another, "related to travel outside Atlantic Canada," is in the Central zone. The third case, in the Eastern zone, is the interesting one, because the infected person works aboard the Marine Atlantic ferry that runs between Cape Breton and Newfoundland and Labrador.
"This case is currently under investigation by public health in close collaboration with Marine Atlantic," says the province, "as well as public health in Newfoundland and Labrador." Additionally, everybody who works on the Blue Puttees (that's the ferry with the infected crew member) is being tested, so Marine Atlantic pulled the boat from service.
"Crew members will be tested and then isolate on the vessel until results are received. The vessel will also undergo an enhanced cleaning," says the Marine Atlantic press release. "As a result of this change, the Wednesday, January 20, 11:45 North Sydney-Port aux Basques and 23:45 Port aux Basques to North Sydney crossings have been cancelled. The MV Highlanders will remain in service and the MV Atlantic Vision is currently preparing to enter service should it be required in the days ahead."
Highlanders is the twin of Blue Puttees. Both boats work the roughly seven-hour trip between Port aux Basques and North Sydney. Atlantic Vision is dedicated to the longer North Sydney—Argentia route between June and September, the only time that run, which takes about 17 hours, is offered.
<!——————————— END OF CAPSULE ———————————> <!———————————— START OF DAY ————————————>
---
Tuesday, January 19
<!———————————— START OF CAPSULE ————————————>
---
Usually the only things that change on Nova Scotia's main COVID-19 data page are the numbers. But today the province made a major switch, going from rudimentary information to the kind of rich dashboard used by many other provinces—a system called ArcGIS, "the world's most powerful mapping & spatial analytics software" according to Esri, the giant company that makes it.
We've asked the province for details on the move to ArcGIS, in hopes of producing a full story for you. Until then, try spotting the differences in these screenshots from the data page as it was yesterday, as it is today and the dashboard itself.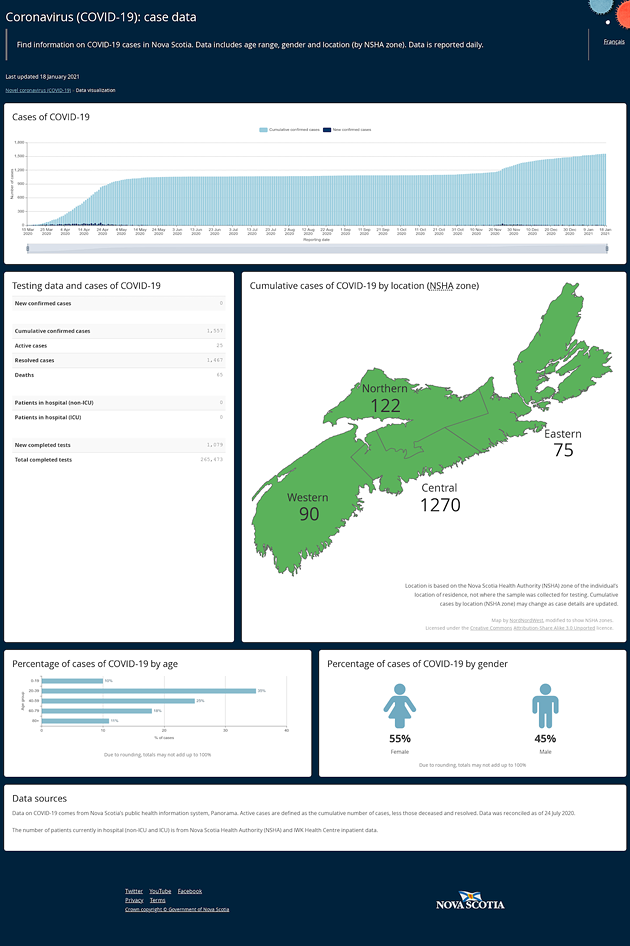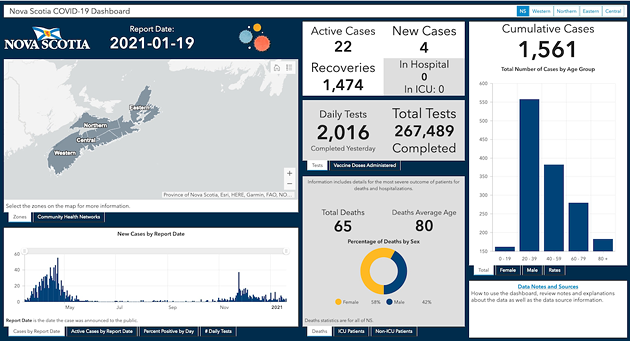 <!———————————— END OF CAPSULE ————————————> <!———————————— START OF CAPSULE ————————————>
---
Last Thursday, we said "the virus has been winning" 2021, because the number of new Nova Scotian infections was greater than the number of people who recovered from COVID-19. But after that, the tide started turning, and today we are thrilled to report a milestone accomplishment.
January 1 to January 19, inclusive, the province reported a total of 75 new cases. Over the same period, 75 infected patients recovered. The score is now tied. The virus isn't winning the new year. The humans' comeback is complete.
At least until tomorrow's numbers come out, when hopefully recoveries will pull ahead.

As for today, the numbers show four new cases and seven recoveries. "One case is in Northern Zone and is a close contact of a previously reported case," says the province's C19 update. "The other three cases are in Central Zone and are related to travel outside Atlantic Canada."
Although there are no signs of community spread, the viral load related to universities continues to increase with an unusual campus(es) situation in Central. "One of the cases is a student who virtually attends two Nova Scotia universities," the province says. "The student lives off-campus."
The province also reports vaccination counts on Tuesdays. As of yesterday, "8,520 doses of COVID-19 vaccine have been administered. Of those, 2,215 Nova Scotians have received their second dose."
This is a sharp increase in inoculations. At the start of the jabs program, from December 16 through January 2, the province got 2,720 vaccines into arms, for a rate of 160 vaccinations per day. January 2-9, the total was 3,831 vaccinations—or 1,111 that period—meaning the rate in that timeframe actually fell to 158.7 per day. Nova Scotia managed to get worse as it went along.
Now, however, with 8,520 total shots (4,689 in the January 9-18 period), the rate is 521 per day. A welcome boost on the road to 10,000 shots per day by the end of May.
<!———————————— END OF CAPSULE ————————————> <!————————————— START OF DAY —————————————>
---
Monday, January 18
<!————————————— START OF CAPSULE —————————————>
---
Zero cases—what a fantastic way to start the week!
The province's daily COVID-19 report has some more good news, too. Just like the last time we had no new infections—eight days ago on January 10—we actually lost a previously reported case, because the patient who was diagnosed here lives someplace else in the country, so technically goes on that place's C19 count.
"One of the cases reported on Sunday, Jan. 17 in Eastern Zone was tested in Nova Scotia, but is a resident of another province or territory and is therefore being removed from our cumulative provincial data," is how the province's case report explains this quirk of Canadian public health. "The person has been self-isolating as required."
"This is the second day since the new year that we are reporting no new cases of COVID-19," says top doc Robert Strang in the report. "I am pleased to see this, but it is not a sign that the virus is no longer in our province. We must continue to follow all the public health measures as we work to reduce the spread of COVID-19."
<!————————————— END OF CAPSULE —————————————> <!————————————— START OF CAPSULE —————————————>
---
Have you missed premier Stephen McNeil and Nova Scotia chief medical officer of health Robert Strang since their last webcast COVID-19 briefing on Friday? Us too. Luckily The Steve & Strang Show has a new episode dropping tomorrow.
The fun starts Tuesday at 3pm. You can watch live at novascotia.ca/stayinformed/webcast, or catch it later at the Nova Scotia government's YouTube page. Watch for the latest vaccination numbers, and a lot of questions from journalists about whether the province is getting shots into arms fast enough.
<!————————————— END OF CAPSULE —————————————> <!——————————————— ***** END OF CAPSULES START OF ARCHIVES ***** ———————————————>
---
NEWS UPDATES ARCHIVES
January 11 week. January 4, 2021 week. December 28 week. December 21 week. December 14 week. December 7 week. November 30 week. November 23 week. November 9 week. November 16 week. November 9 week. November 2 week. October 26 week. October 19 week. October 12 week. October 5 week. September 28 week. September 21 week. September 14 week. September 7 week. August 31 week. August 24 week. August 17 week. August 10 week. August 3 week. July 27 week. July 20 week. July 13 week. July 6 week. June 29 week. June 22 week. June 15 week. June 8 week. June 1 week. May 25 week. May 18 week. May 11 week. May 4 week. April 27 week. April 20 week. April 13 week.