NOTE: This week is now over. For the very latest news, please go here. But for an informative look back at exactly how Nova Scotia responded to COVID-19 in realtime, keep on reading.
<!—————————— ***** END OF TOP INFO START OF CAPSULES ***** ——————————>
Click for mobile-friendlier version of graph.
Editor's note: In its 28 years The Coast has never been a just-the-facts news service, but for these strange times here are quick-hit updates.
<!—————————— **START OF CAPSULES*** ——————————> <!— START OF DAY —>
---
Sunday, January 3
<!— START OF CAPSULE —>
---
After the province's peaceful holiday from COVID-19 worries was interrupted by unusual circumstances, we're back to a vacation today. The map is showing a case-free limbo zone; we should find out Monday if there were actually no cases today, or if this is the 51st day in a row with new infections.
<!— END OF CAPSULE —> <!——— START OF DAY ———>
---
Saturday, January 2
<!——— START OF CAPSULE ———>
---
As we reported earlier, on New Year's Eve the province announced that C19 updates would take a vacation over New Year long weekend. "COVID-19 case reporting will take a brief pause during the upcoming holidays," said the province's December 31 email to media. "There will be no data updates or news releases on Jan. 1, 2 or 3, except in unusual circumstances."
Well, two days into 2021 Nova Scotia has apparently reached unusual circumstances. And this new year, which showed so much promise by being some other year than 2020, might have already fallen flat on its face.
Saturday the province interrupted its vacation with an update about 13 new C19 cases—11 of them January 1, two of them today. Here are the breakdowns:
On Jan. 1, 11 cases were reported: 10 in Central Zone and one in Northern Zone. In Central Zone, eight are close contacts of previously reported cases and two are linked to travel outside Atlantic Canada. The Northern Zone case is linked to travel outside Atlantic Canada.

On Jan. 2, two cases were reported: one in Central Zone linked to travel outside Atlantic Canada and one in Northern Zone that is under investigation.

Five of the cases reported on Jan. 1 are at Churchill Academy, a private school in Dartmouth. There were two other recent cases at the school, for a total of seven. Public health has been in contact with the school community and is arranging testing for all staff and students. The last day of school was Dec. 18 and classes are scheduled to resume Jan. 11.
The update doesn't explain what exactly the unusual circumstances are that precipitated this report. It may be that New Year's Day was the first time the number of new cases has been in double digits since December 4. Or having five cases at Churchill Academy could be what's so unusual—that would be the most
cases at a school
in a single day. Or perhaps Churchill Academy's two earlier cases triggered the unexpected update, because as far as we can tell from searching other media and our email in box, those cases were not public knowledge before.
It's possible that the convergence of anomalies—more cases than Nova Scotia's had in nearly a month, a potential outbreak at a school AND discovering some school-based infections that went unreported—is what puts us in a state of unusual circumstances. And it could be something else altogether. We've asked the province for clarification, and will let you know what we find out.
We've also asked about those two previously unreported cases at Churchill Academy, in hopes of understanding if something is broken in the system that's supposed to be monitoring C19 in schools. We certainly hope nothing's broken. Otherwise our plans for a better year in 2021 are gonna feel obsolete real fast.
Speaking of obsolete, yesterday's map reflected a Nova Scotia enjoying the New Year holiday before unusual circumstances came to pass. We are including a new map here to reflect the current state of affairs. From today's provincial update, we know eight patients recovered over the last two days, but not how many of them recovered yesterday and how many today. We've made the arbitrary decision to count them all on today's map.
<!——— END OF CAPSULE ———> <!——— START OF DAY ———>
---
Friday, January 1
<!——— START OF CAPSULE ———>
---
Happy 2021 everybody! Congratulations for making it. The year from hell is over at last. So long, 2020. You will live a long time in our memories, but not our hearts.
As promised yesterday, the province is taking the New Year's holiday weekend off COVID-19 case reporting. Here's hoping no "unusual circumstances" cause a report Saturday or Sunday, and that your 2021 is off to a good start.

<!——— END OF CAPSULE ———> <!———— START OF DAY ————>
---
Thursday, December 31
<!———— START OF CAPSULE ————>
---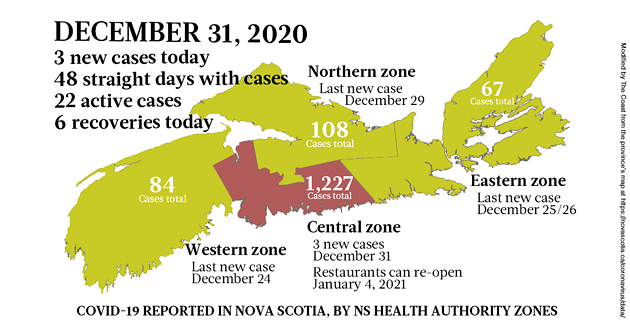 It's New Year's Eve, dawn of both a holiday long weekend and getting to put 2020 behind us. And the province greets this momentous day with happy news on each of those fronts. For the holiday, a break from COVID-19 reporting: "There will be no data updates or news releases on Jan. 1, 2 or 3, except in unusual circumstances," says the press release. For starting 2021 on a positive note, bars and restaurants in Halifax can reopen on Monday.

"Given low case numbers over the holidays, restaurants and licenced establishments in areas of Halifax Regional Municipality and Hants County can reopen for dine-in service starting Jan. 4," says Nova Scotia's daily C19 update. "They must follow the provincewide restrictions, including ending service by 10 p.m. and closing by 11 p.m. They can continue takeout and delivery service with no restrictions. The Halifax casino and VLTs remain closed."
Those low case numbers include three new cases today, all in the Central health zone where Halifax is located, all with causes unrelated to community spread. "One is a close contact of a previously reported case and two are related to travel outside of Atlantic Canada," says the province.
Loosening restrictions for restaurants in a few days is a welcome New Year's reprieve, but it does nothing for the 10-person gathering limit in place for New Year's Eve, as premier Stephen McNeil and chief medical officer of health Robert Strang seem to understand. Each official has a statement in the C19 update reflecting on the big (small) day.
"Tonight would normally be a time to get together in large groups for a countdown and celebration. We cannot do that this year because we know how important it is to keep our gatherings small and follow all the other public health protocols," says McNeil. "As you look forward to 2021, remember the strength, kindness and love that got you through this difficult year and carry it over into the new year. We can all have a sense of hope with the COVID-19 vaccines coming online. I wish all Nova Scotians a safe, healthy and happy new year."
Strang says, "It's good that our case numbers continue to be relatively low but we can't let down our guard, especially tonight when many people would normally have a party. Let's keep our gatherings small or virtual as we celebrate all we've accomplished together in 2020. I wish all Nova Scotians a happy new year and ask for your continued help to accomplish even more in 2021."
<!———— END OF CAPSULE ————> <!————— START OF DAY —————>
---
Wednesday, December 30
<!————— START OF CAPSULE —————>
---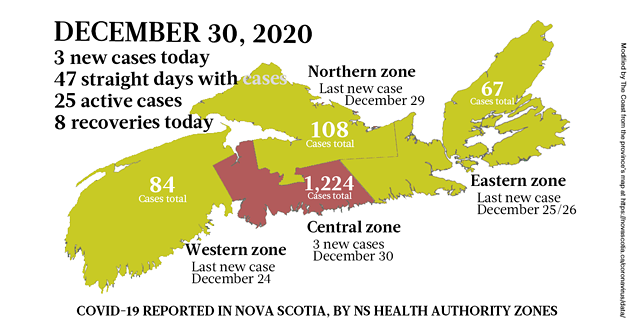 A relatively quiet day—three new cases in Central that are all close contacts of prior patients—still has a disturbing side, as two of the cases have school connections. If those people got infected when school was in, the news would probably be more frightening. But with schools shut down for the holidays, the risk of widespread transmission feels shut down, too.
Here's how the province describes the situation in the official Nova Scotia COVID-19 update: "One of the cases is at Prince Andrew High School and one is at Eric Graves Memorial Junior High School, both in Dartmouth. School communities have been notified directly. The schools are currently closed for the holiday break and will be cleaned again before staff return on Jan. 4." Our ongoing tally of cases in schools is here.

<!————— END OF CAPSULE —————> <!——————— START OF DAY ———————>
---
Tuesday, December 29
<!—————— START OF CAPSULE ——————>
---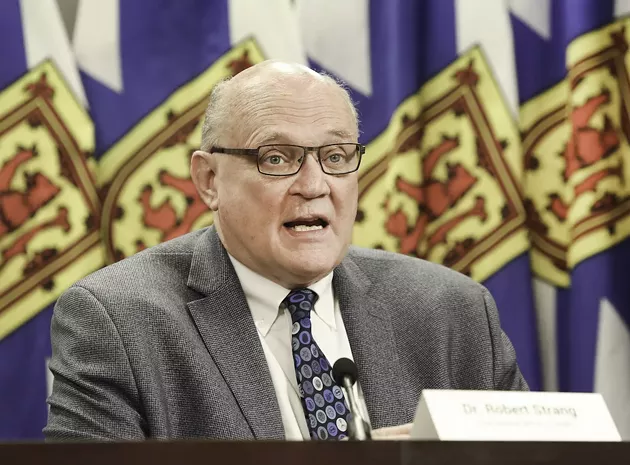 We got the numbers from the holidays
at a press conference today
, and they're not looking too bad. Between December 25 and 28 while the province took a break from reporting, there were 13 new COVID-19 cases.
Add on the seven cases detected on Christmas Eve, and you've got the current grand provincial total of 30 Covid cases in NS. One of those is now in hospital, but not in the ICU.
Premier Stephen McNeil thanked Nova Scotians for making sacrifices and "keeping their gatherings to a minimum" for the most part over the holidays.
Strang says of the 33 new cases reported in recent days, only five of those are of unknown origin, which could mean the dreaded community spread. But all others are either a close contact of another case (18 cases) or related to travel outside the Atlantic region (10 cases).
Strang also stressed the importance of increased access to testing during the now-ongoing second wave. But he says "this only works if people know when they can get tested" and
where to go.
The Pfizer vaccine is continuing to roll-out in Nova Scotia, and to date, 2,290 people, mostly healthcare workers, have been vaccinated.
The Moderna vaccine clinics will also begin relatively soon, and Strang says its lower freezer temps mean easier access for rural NSians. "That vaccine is easier to move around and start doing vaccinations across the province," he said.
With New Year's Eve looming, Strang took the opportunity to remind Nova Scotians to stick to their 10-person bubble and to keep that bubble consistent. He also got a bit sentimental while reflecting on the year we've had.
"Remember that through all the hardship, you found strength," Strang said.
<!——————— START OF CAPSULE ———————>
---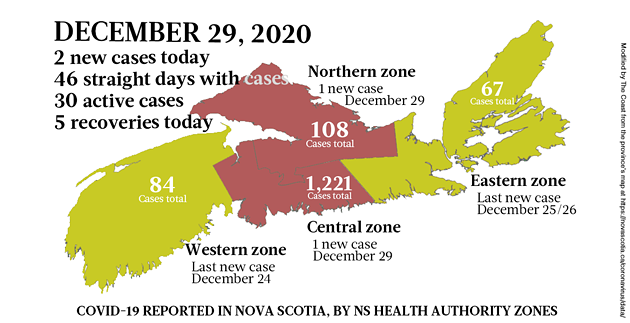 For this low-energy Tuesday slung between a pair of holidays, the disease is also thankfully quiet. The two new cases are vastly outweighed by five recoveries. "One case is in Central Zone and linked to a close contact, and one is in Northern Zone, linked to travel outside of Atlantic Canada," says the province's update, keeping things simple and brief to fit the tone of the day.
<!——————— END OF CAPSULE ———————> <!————————— START OF DAY —————————>
---
Monday, December 28
<!——————— START OF CAPSULE ———————>
---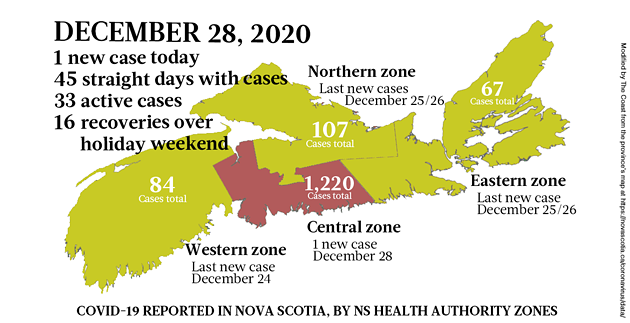 After taking a planned vacation from COVID-19 reporting over the Christmas holiday weekend (a big deal for the billions of people who follow the Christian religion)' the province got back at today, issuing a C19 update that detailed the new cases diagnosed over the break.
For any stats obsessives out there, we are retrofitting last week's C19 news feed to include The Coast maps for where those patients live. But be warned there is no information about patients who recovered on the weekend. Instead we have a bulk number from today's report: From the Friday of Christmas Day through today, 16 people recovered, leaving us with 33 active cases currently.
For those who aren't so obsessed with statistics, the bottom line is 13 new cases were diagnosed from last Friday to today, compared to 16 recoveries. Of the 13 new cases, 10 are in the Central health zone, two are in Northern, one is Eastern; all are "linked to close contacts or travel outside of Atlantic Canada" says the province. That lack of community transmission is a big deal no matter what your religion is.
"I want to thank people who followed the public health guidance over Christmas. We need to keep it going this week as we head to the New Year," says top doc Robert Strang in the province's update. "Do your part by wearing a mask, limiting social contacts, practising social distancing, adhering to the gathering limit, staying home when feeling unwell and washing your hands frequently."
<!——————— END OF CAPSULE ———————> <!————————— START OF CAPSULE —————————>
---
Hi everyone. Team Coast is getting back in the swing of the pandemic after the holiday break—both the days off and the province's break from reporting COVID-19 cases on December 25, 26 and 27. Please bear with us as we dust off the equipment at the information factory and power up the machinery. The production lines will be running smoothly soon. We hope you got a holiday, and that it was enjoyable.
<!————————— END OF CAPSULE —————————> <!—————————— **END OF CAPSULES/START OF ARCHIVES*** ——————————>
---
NEWS UPDATES ARCHIVES
December 21 week. December 14 week. December 7 week. November 30 week. November 23 week. November 9 week. November 16 week. November 9 week. November 2 week. October 26 week. October 19 week. October 12 week. October 5 week. September 28 week. September 21 week. September 14 week. September 7 week. August 31 week. August 24 week. August 17 week. August 10 week. August 3 week. July 27 week. July 20 week. July 13 week. July 6 week. June 29 week. June 22 week. June 15 week. June 8 week. June 1 week. May 25 week. May 18 week. May 11 week. May 4 week. April 27 week. April 20 week. April 13 week.