click to enlarge
Saturday the
Halifax Pop Explosion NXNE Showcase
(
Dance Movie, Glory Glory, Jon Mckiel
and
Cousins
) went down in a wonderfully cold goth bar on Queen, The Velvet Underground.
Dance Movie played to a mostly Haligonian crowd. I made only minimal mistakes on bass. Everyone else made no mistakes.
I had great visits with family and friends and got to see Cousins too. There were a few minor microphone issues at the beginning of the set, but that resulted in Aaron losing it on the drums in frustration. Talk about taking lemons, eh? If I could give out keys to the city, I'd give Cousins one. They are a gem of a band.
click to enlarge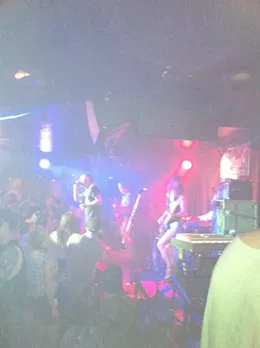 After an unsuccessful attempt to double on my giant friend Alan's bike, we walked to the Silver Dollar room to see Teenanger and Crocodiles. Teenanger are so mind-blowingly awesome. If the style of music I like could be distilled into a super powerful elixir, it would be like Teenanger got drunk on a whole bottle of it.
click to enlarge
Crocodiles played next and even though I have never said this in real life and will continue to avoid saying it, I don't think there is a better way to describe them other than "locked into a groove." I have never seen a band be more into it, I swear. It was a little theatrical for my liking, but the music was great. It was a nice wind-down from a weekend like this. Bye, Toronto! Have a cool summer, don't change, remember the good times in biology class and STAY FRESH.