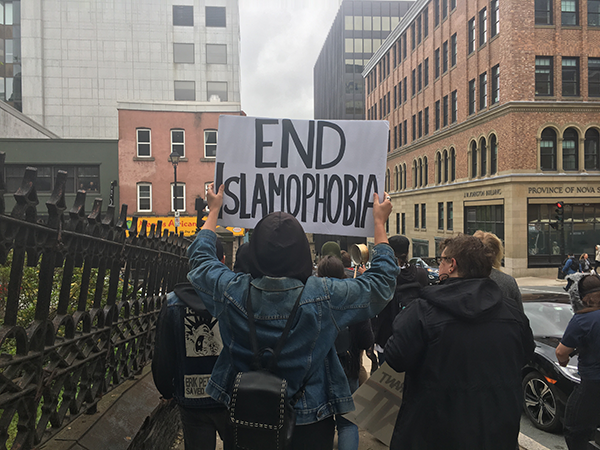 Afederal nationalist party called The National Canadian Alliance tried to recruit members in Nova Scotia on June 22 but were met once again with heavy opposition by a counter demonstration of at least 100 people at Grand Parade Square.
While counter-protestors starkly outnumbered the NCA rally, none were reported carrying weapons. No one was reported injured.
Counter-demonstrator Brad Vaughan says, "I'm here today because I believe it's really crucial to build organizational capacity opposing the far right," he says, "both in terms of immediately opposing groups like the NCA who are relatively marginal, and also in terms of building long term power to prevent the growth of a populist far right in the mainstream."
The NCA—a minor, far-right federal party with a platform that includes anti-immigrant, pro-"Euro-Canadian" policies—rescheduled the recruitment rally originally planned for 1pm on Saturday when it found out about Halifax Against Hate's counter-demonstration. Halifax Against Hate then told protestors to show up even earlier. "We clearly undermined their ability to draw in new people," says Vaughan.
For almost an hour Halifax Against Hate and others waited for NCA to make an appearance. Suddenly, the party leader, Steven Garvey (formerly associated with the Worldwide Coalition Against Islam) appeared at the George Street entrance with a megaphone in one hand and a smartphone in the other, recording video. The crowd rushed to Garvey, waving signs, banging pots and pans, chanting "NCA go away."
Garvey smiled as he led the crowd up and down the square, counter protestors following close behind, at which point two other NCA members appeared to protect Garvey. Video of the rally shows one carrying a small knife on their belt.
Garvey zig-zagged through the square followed by protestors, until finally he stopped on the stairs near a police car on Argyle Street where he turned on the megaphone saying, "Let's have a dialogue."
One counter-demonstrator stood in front of Garvey and flipped him two middle fingers, grabbed his hat and threw it into the crowd. Police immediately approached from the back of the crowd to arrest the man.
The NCA leader then walked away and got into a car near George and Barrington Streets. Garvey later returned with more members, a table, a stereo and signs for recruitment.
The counter-protestors who were still there after 2pm caught NCA's return and confronted them again. One was pepper-sprayed by police and arrested for damaging an NCA sign.
A press release by Halifax Against Hate says an NCA member assaulted a counter- demonstrator and seemed to be apprehended by police, but was not arrested or charged.
HRP's press release on Saturday had some inaccuracies, but HRP says the report was accurate according to the limited information they had at the time of its writing.
Police were made aware of the rally as well as the counter demonstration before it happened, but HRP wouldn't say how many officers were deployed on Saturday.
NCA had a permit for Grand Parade Square, but the permit was granted to a different name. A HRM spokesperson says permits are designed to record public gatherings and offer assistance, not prevent them. An application could be denied if the location is overbooked, or if there isn't enough space for the attendants.
HRM confirmed that June 4 they received an application for a permit but the name on the form was "Canada, Canadians First." HRP believed early on that the name referred to the NCA.
This is the party's modus operandi, says Vaughan. "The NCA has in the past secured venues and permits by communicating either quite dishonestly, or in dog whistles," says Vaughan. "So when they're talking about their anti-Semitic conspiracy theories they never say 'We oppose Jews,' they talk about globalism. So when they're applying for permits there's a lot of these dog whistles that don't reveal the real, underneath content."
NCA's members include people known for leaning on conspiracies such as The Great Replacement—a theory that government is purposely replacing white Canadians with immigrants—to justify their platform.
In an interview published on YouTube last year, Garvey describes his fear that "disadvantaged Euro-Canadians" are being "mongrelized" by an influx of immigrants "moving in and pushing our culture" [out].
NCA has tried recruiting in Nova Scotia before but each time has been banned, denounced or escorted off the premises. Most notably, the group was banned from the Apple Blossom Festival in Annapolis Valley last year. This year, the town of Truro denounced the group ahead of the upcoming Inclusion Fair which the NCA plans to attend later this week.
"The showing of people very explicitly in support of migrants, and not only in opposition to the NCA," says Vaughan. "It's actually been really motivating."