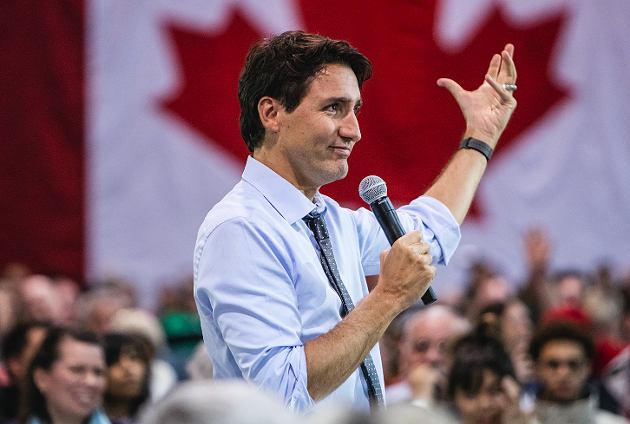 Eight hundred bucks isn't a lot of money, but one Halifax councillor says it's still more than the municipality should have spent on Justin Trudeau's town hall.
According to the mayor's office, HRM covered $800 in room rental costs for Monday night's evening with Trudeau, while the Prime Minister's Office handled the remaining bill for renting the Sportsplex arena and other incidentals. Mayor Mike Savage says that's par for the course.

 "We would have done the same for any prime minister just as we have routinely shared costs for federal announcements within our municipality for past and current federal governments," says Savage in an emailed statement.
Hammonds Plains–St. Margarets councillor Matt Whitman, though, calls the Dartmouth event a "Justin Trudeau love-in" that should have been paid for wholly by the Prime Minister's Office.

"This tour was supposed to be non-political," writes Whitman in a Twitter message. "If so, the PMO should pay...not municipal or federal tax payers."
Thousands of people flocked to the Dartmouth Sportsplex on Monday evening to take part in the prime minister's cross-Canada town hall tour. Trudeau took unscreened audience questions on issues ranging from the approval of pipelines over Indigenous lands, to Syrian refugees and Nova Scotia's aging hospitals (not to mention a covert selfie-ambush from Divest Dal earlier in the day). But Whitman says he wasn't impressed with the public's questions.

"There was nothing about debt; nothing about the new investigation by the ethics commissioner...nothing that would have hurt," says the councillor. "Although it was billed as non-political, maybe because the crowd he attracted, it was very pro-Trudeau and pro-his government."
Former NDP candidate and Spacing Atlantic editor Abad Khan also criticized the municipality's involvement and Savage's role as host on Facebook.

 "I wonder how people would have felt if Stephen Harper joined a 'municipal' town hall Peter Kelly was hosting as mayor," writes Khan. "If it is a PR town hall/rally then let the Liberal Party pay for it and the mayor and council can attend as citizens (some I'm sure as party members) versus using public funds to promote for partisan gain."

The cross-Canada tour comes as the prime minister faces questions from the federal ethics commissioner on Trudeau's private island vacation, and as the party faces criticism for its cash-for-access fundraisers.
Monday night's event—promoted by HRM Liberal MPs Andy Fillmore and Darren Fisher and hosted by former Liberal MP Savage—appears to be part of the PMO's effort to address those criticisms head-on through public access to the prime minister. 


 "When you are being chased by concerns about $1,500-a-plate fundraising dinners and vacations on private islands, it makes obvious political sense to be seen communing with the general public," writes Aaron Wherry for the CBC.