Plans for a brand new Mi'kmaw Native Friendship Centre are one step closer to becoming a reality thanks to a surprise motion from Halifax Regional Council.
After an in-camera discussion that began Tuesday evening and
spilled
into Wednesday afternoon, council voted to once again look at selling the former Red Cross building
in
the north end, under the condition that any redevelopment
will include
should look at including a new friendship centre.
"
Excited," "thrilled" and "overwhelmed" were all words executive director Pam Glode-Desrochers used to describe her reaction.
"We talk about reconciliation, and there's always lots to talk about it, but this is an actual action," she told reporters.
"This is something that's tangible and real for us. There are lots of cities across Canada that, they've done statements of reconciliation, but they have only talked about it. This is an actual action. I think this is the start of a great partnership."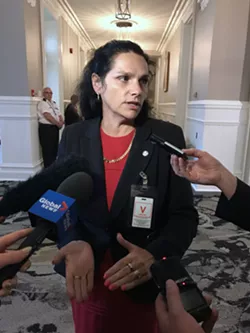 The motion rescinds council's previous decision
from last November
to declare 1940 Gottingen Street surplus and sell it off to the highest bidder. The 1.2-acre piece of land, assessed at $6.1 million, sits behind Centennial Pool and across the street from the Halifax police station. It's been vacant ever since Canadian Blood Services moved out in 2013.
Discussions began back in January to undo council's previous motion when word came down that the federal government was interested in helping to fund a new friendship centre.
"From that point on, we've been talking about what sites could HRM potentially help support them on," councillor Waye Mason said Wednesday.
Glode-Desrochers has been working with Group ATN consultants on a business plan for the site, but once it became clear that proposal wouldn't be ready in time, council and staff worked on a "hail mary" to rescind November's motion before the property went up for sale.
The site will still be sold at market value, but the community group will have federal funding, an eager-to-help municipality and the potential for private partnerships to make its dreams come true.
"This isn't a dream now," said Glode-Desrochers. "This is something we can actually build on, and that's going to make a huge difference."
A full build-out of the property would be over 200,000 square feet, of which the Friendship Centre only needs 70,000. The remaining space will be developed with extensive community input. A reception event held next week will be the first chance to solicit feedback on what's needed at the site. Glode-Desrochers suggests affordable housing units, a garden and a powwow space could all be included in final designs.
The building itself will also be "iconic," she says, in a way that will make the entire city proud.
"We want this centre to be everybody's centre," she adds. "This is groundbreaking for us. I believe we'll be a leader in how we're doing reconciliation, particularly with the city here. Council took a leap today, and we're going to do this together."
Council's motion taking place on
national
Aboriginal Day added extra significance to the announcement, even if that wasn't by design.
"The timing of this is more coincidental," said
mayor
Mike Savage. "Although it may be a sign from the creator, I don't know."
Savage opened the day's meeting with an acknowledgement that Halifax sits on
unceded
Mi'kmaq land. His statement was cut off by an outburst from
councillor
David Hendsbee, who claimed June 21 was also the date Halifax was founded by European settlers.
The momentary tantrum, however, didn't overshadow the day's later accomplishments.
"We're moving more and more as a city to really understanding and having a relationship with our First Nations people," said Savage. "That is very heartening."