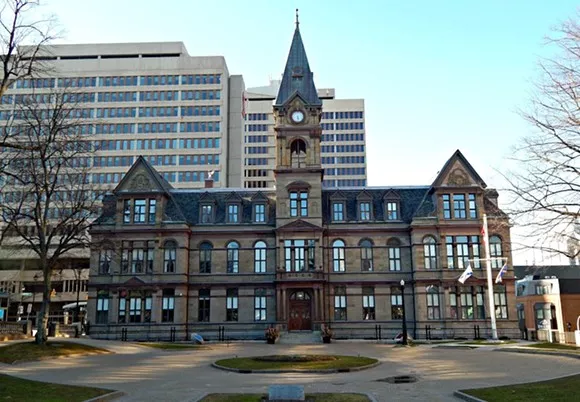 "I don't think the job of city councillor is one that's meant to be 20 years and you get a gold watch afterwards," says District 14 candidate Lisa Blackburn.

Blackburn is one of five council hopefuls who are joining together Tuesday at Grand Parade to promise to introduce term limits to city hall if elected.
She joins Carlos Beals (Harbourview—Burnside—Dartmouth East), Brenden Sommerhalder (Halifax Peninsula North), Shawn Cleary (Halifax West Armdale) and Pamela Lovelace (Hammonds Plains—St. Margarets) in calling for a limit of no more than three terms for HRM councillors.
"I think it's something that requires a constant, steady stream of fresh perspectives, fresh voices and fresh experiences at the council table," explains Blackburn. "I really don't think you can achieve growth without that."
One of HRM's longest-serving representatives doesn't agree. Reg Rankin has been a councillor since 1991. Obviously, that's because his residents keep voting for him.
"Where is the court of public opinion?" asks Rankin, who's not re-offering this election. "Is it not from whence they get their authority? Let them decide. Some people may have to go in the second term, based on their performance."
Rankin points out that neither the federal nor provincial systems have term limits and that doesn't stop complete overhauls in who gets elected to those governments.
"The community has, from time to time, shown that they can vote against a longterm employee, not withstanding the profile that person has," he says.
In other words, the problem works itself out. But that view favours those who keep getting elected. Councillors have four years of public appearances, hundreds of thousands of dollars in discretionary capital funds and plenty of media time to build their profile and ingratiate themselves to their district. Unless the incumbent is absolutely despised, running against them can be an uphill battle.
Councillors re-offering this election have between them close to 130 combined years in office. That includes longtime councillors like Stephen Adams (first elected in 1991), Russell Walker (elected in 1994) and Blackburn's Middle/Upper Sackville—Beaver Bank—Lucasville opponent Brad Johns (first elected in 2000).
Only three new councillors were elected in 2012 when the number of districts dropped from 23 to 16—one of whom (Steve Craig) was running for an open seat. The previous election had only two out of 17 incumbents defeated by a challenger. This year, there are more candidates fighting for HRM's four open seats than the other 12 districts combined.
"A lot of people don't vote because they feel, why bother, nothing every changes," says Blackburn. "Why does nothing ever change? Because it's the same faces every time."
Like Peninsula North councillor Jennifer Watts, who's stepping down next month after eight years in office, Blackburn is promising a self-imposed two-term limit if she's elected. That's more than enough time to get things done, says the former broadcaster.
"The first term you need two years to get your feet wet, get yourself acclimatized to the position, and then the final two years you get going on major projects that you want to accomplish. That second term you spend finishing up and putting the final touches on those projects. I think that's when it's time to step aside and let new people come in."
An increased turnout on election day would do more to bolster local democracy than term limits, counters Rankin. There's no "general decline in the quality of a representative by virtue of years," says the councillor. The real problem is discouraged voters.
"Maybe the thing is to try and get a good outcome from our electorate," says Rankin. "You tend to get a government you deserve."