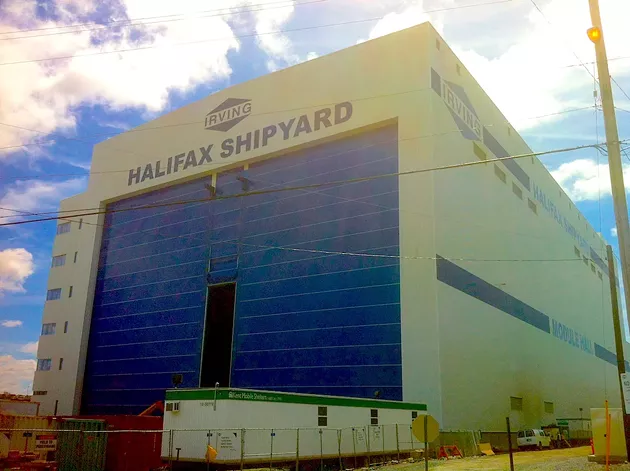 Those jobs were always meant to be in Halifax, says HRM's chief administrative officer, Jacques Dubé. "Always were."
Regional Council unanimously voted on Tuesday to voice its opposition to a proposal for splitting up naval maintenance work between shipyards here and in Quebec—calling on the federal government to keep shipbuilding jobs in Halifax.
Councillor Stephen Adams
put forward the motion
during Tuesday's meeting, in response to concerns from JD Irving and its unionized workers that hundreds of skilled jobs could end up lost if the lucrative maintenance contracts are shared with Davie Shipbuilding in Quebec.
Adams admitted shipbuilding decisions are a federal jurisdiction, but Halifax nevertheless has a stake in the matter given how the loss of work will impact residents and the city's tax revenue.
"That is part of our mandate," said Adams. "We're talking families and lives here."
Irving won the contract for maintenance on Halifax-class frigates back in 2011, but that deal is nearly expired and procurement officials in Ottawa have expressed an interest in splitting future repair work between Halifax and Quebec. According to
media
reports
, the Department of National Defence doesn't believe Irving can handle the workload while also building its new surface combatant warships.
Union officials representing Irving workers say as many as a
third
of the Shipyard's 900 unionized workers could face layoffs if the maintenance work is split with Quebec.
In response, Unifor has launched a petition and lobbying campaign, dubbed "
Ships Stay Here
," which asks the public to share its support for Shipyard workers.
"The loss of this work would be a loss for the Nova Scotian economy and families across the province," reads a statement on Unifor's website. "Logistically and economically, it makes sense to keep the work in Halifax."
Dubé took time during the brief discussion on the item to assure council the matter was serious. The CAO previously served as deputy minister for Service New Brunswick some 15 years ago, back when the federal government agreed to pay $55-million in "economic readjustment" so that Irving could permanently close its mothballed Saint John shipyard and transfer work to Halifax.
"I spent many an hour with JD Irving in Ottawa negotiating this matter," Dubé said on Tuesday. "Today, what we're seeing is not what we agreed to at the time. So this is absolutely not sensational. This is real."
Seven Halifax frigates need maintenance completed over the next five years. Repairs on each vessel represent the potential for hundreds of millions of dollars pumped into the Shipyard.
Irving has already received some $3 billion out of $40-billion worth of shipbuilding contracts for Canada's new
Arctic
, Offshore and combatant vessels. Nova Scotia has also invested heavily in the company's shipyard operations, with the province offering a $304-million forgivable loan to upgrade Irving's facility and Halifax council approving a substantial tax break for the property.
"It's extremely important that we maintain those jobs and that we support, not only JD
Irving,
but the workers and the unions going forward on this file," Dubé told council before the vote on the item, earning a spattering of applause.
The Department of National Defence has told media that the government will announce any changes to planned maintenance contracts in the coming weeks.