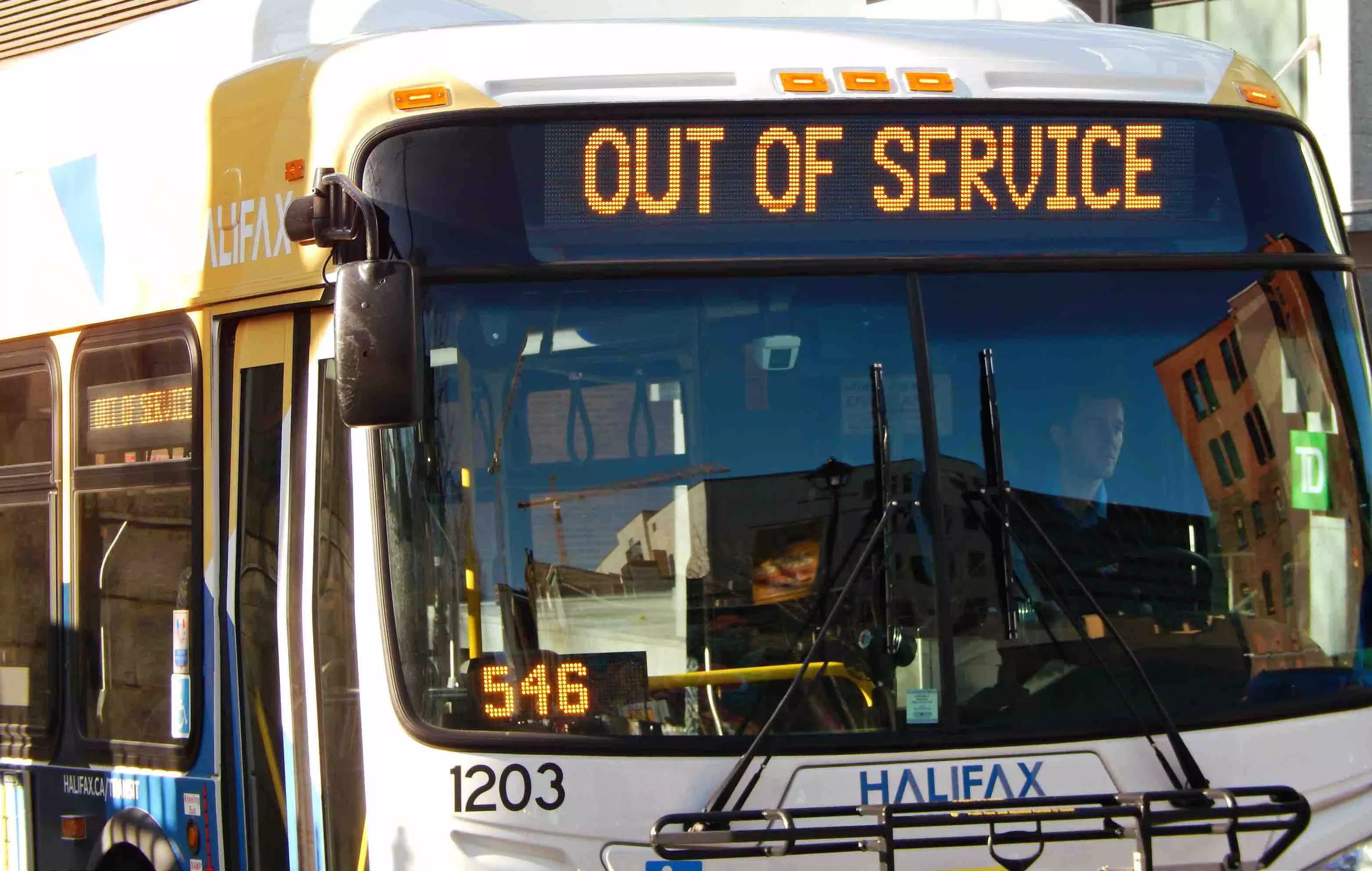 Regional council has voted to overhaul HRM's transit network—barring a couple dozen amendments it needs to investigate first.

Halifax Transit's Moving Forward Together plan was discussed for several hours at Tuesday's committee of the whole meeting. The five-year plan has been in the making since 2013, and will dismantle and rebuild the municipality's bus system into a transfer-based network focusing on 10 new high-frequency corridor routes.
The plan was only approved though on the condition that it will wait to be fully enacted once staff come back with a supplementary report outlining the options and implications of 23 amendments asked for during Tuesday's meeting.
The individual amendments will be discussed and voted on once the report comes back to council. Given the complexity of some the requests, that's unlikely to happen for several months and maybe not until after the municipal election.
None of this really sat well with councillor Russell Walker.


"I'm a little disappointed we won't be able to give the plan presented to us even a chance," said the representative for Bedford Basin West. "This is not making anything faster or more convenient, in my opinion."

Amalgamated Transit Union president Ken Wilson was more blunt in his assessment.
"It's almost a case of 'not in my backyard,'" he said after Tuesday's meeting. "'Change the transit system, but make sure you don't affect my route in my district.'"
Wilson, who says the ATU wasn't properly consulted by Halifax Transit, was also critical of the Moving Forward Together plan's overall design.
"We're going to lose ridership. There's no doubt in my mind about that," Wilson said in a presentation to council. "We're using outdated analog data to blow up our transit system and put it back together...it makes absolutely no sense."
Mayor Mike Savage defended this newest delay as part of a healthy democratic process, even while admitting that he hopes not everything council asked for will be approved.
"I probably would've preferred to have a few less amendments, but I do think you have to understand that this is the beginning of the political part of this process," Savage told reporters. "At the end of the day, I'm hoping we don't try to pass everything, because if you pass everything then you really pass nothing."

According to acting Halifax Transit director Dave Reage, the proposed amendments won't impact the minor transit system changes the city is planning for this fiscal year—including alterations to routes 56 and 330, an increased Access-a-Bus fleet, technology upgrades like real-time GPS tracking and new bus shelters.
———
Regional Council's 23 requested amendments
Provide Eastern Passage/Cow Bay with bus service to Cole Harbour and Portland Hills./li>
Make no change to route 15 to Purcell's Cove.
Extend "one small portion" of the airport bus route into Fall River.
Start the proposed Cole Harbour link prior to 2021.
Not change any route numbers in North Preston and Cherry Brook.
Create an alternate route for the 370 Porters Lake.
Extend route 55 to Waverly, through to Fall River and Sackville.
Make no changes to route 6 on Quinpool.
Extend buses in Hammonds Plains to Tantallon, and Tantallon buses to Hammonds Plains, Peggy's Cove and Hubbards.
Expand the proposed route 93 to service the areas around Sunnyside and Bedford Place malls.
Determine whether Sambro route 402 can be removed.
Keep the number 10 on Inglis and Beaufort.
Extend local bus service to Joseph Howe Manor.
Consider changes to routes 63, 68, 55 and 401 as proposed by the Main Street Business Improvement District.
Locate the Wright Avenue/Akerley bus terminal nearer to the future Dartmouth four-pad arena.
Add a corridor route running from Burnside to Woodside, making it easier to travel within Dartmouth.
Extend hours for downtown/Dartmouth Crossing routes to better fit late-night work for those "associated with the service industry."
Continue route 5 (which will become route 26) into the downtown.
Provide a history of planned and actual transit service to Lucasville, as well as options to extend service to that community.
Identify other local routes that may, in the future, offer high-frequency crosstown service.
Include implications of the proposed route 1 for Roslyn Road during peak afternoon hours.
Continue route 32 (which will become route 124) on Summer Street.
Enable east-west routes across the north end peninsula to allow more convenient connections from Bayers Road to Barrington Street.