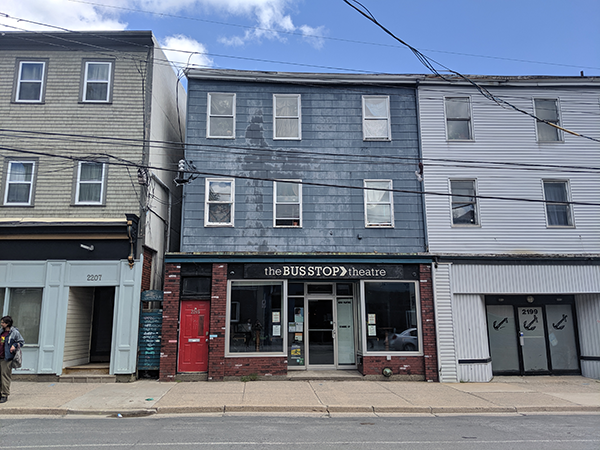 The Bus Stop Theatre's last Hail Mary has paid off—for now. At regional council on Tuesday, every seat was full with members of the arts community, some of whom had to sit in overflow seating. Councillor Steve Streatch described the scene best when he said, "My god, the difference a week can make."

Last week, the Bus Stop was facing down city staff's rejection of its last-ditch $500,000 funding request made in February as part of a multi-level of government, multi-stage plan to save the theatre. Hundreds and hundreds of emails and phone calls followed, and as councillor Lisa Blackburn says, councillor Lindell Smith "pulled a rabbit out of your hat with this one" to find a halfway solution and give the theatre another chance at survival.
Council voted against staff's initial recommendation to reject the funding based on bad timing, lack of other committed funders, and insufficient long-term plans, and passed Smith's new motion for a conditional give of $250,000 over two years.
This means—pending further logistic and financial investigation and commitment from other government bodies—the theatre has the support of regional council, and can take that as it revisits funding requests from other levels of government and private organizations, something they said was missing in the initial ask process. The theatre's current lease ends July 3, 2020, but in order to secure the building, they will need to demonstrate funding commitments by July 3, 2019, which means the hard part is just getting started.
Sébastien Labelle says it's a big relief. "It means that we have a real shot at saving the bus stop theatre, of protecting its legacy, and then continuing forward into the future to really keep building what we've built over the last 15 years," says the Bus Stop's Co-Op's executive director.
Though the $250,000 is less than the original ask, Labelle says it's a commitment that "really allows us to move forward with a lot more reassurance and reassurance that we can offer other investors and partners in the project."
When Labelle came to council in February, he was late in the budget process and asking for a lot. "I knew that it was a tough ask," says Labelle, "And I knew that our timeline was very challenging." He suggests that perhaps council's outright decline of the ask acted as the catalyst that caused the uprising that has resulted in a second chance for the theatre. "When people kind came to realize that"—the theatre could be lost—"they rose up and voiced very clearly their support for what we do at The Bus Stop Theatre and the space we provide."
Councillor Sam Austin says the absolute outpouring of support from the arts community changed the conversation. "Anytime you see something like that, it's pretty darn clear signal that this is an important institution."
Councillor Bill Karsten reminded the attendees that a big ask like $500,000 that hasn't been budgeted does need to be grappled with, and pushed for a better framework to make these kinds of cultural capital spends in the future.
Staff says phase one the cultural spaces plan has been initiated in the form of a museum strategy which should start to frame up important cultural elements over the next nine months to a year.