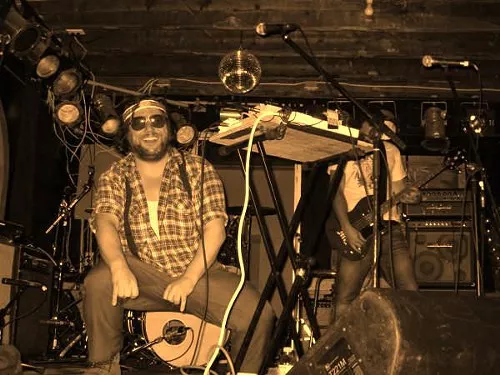 It's pretty impressive when your band embarks on a cross-Canada tour after barely a year of existence. When one of your bandmates bows out at the last minute and your basement gets flooded with sewage right before the trip, as was the case with Moncton's Cop Shades, the situation grows slightly hairier. But somehow, everything worked out swimmingly for the tenacious psych-rockers. . Bassist and Moncton recording legend Kyle McDonald is still flying high from the trip, which took the trio from Halifax to Victoria last summer. (He's currently joined by Remi Cormier on vocals and machines and Matt Hogg on drums.) "I can't even express how incredible it went," he says. "Sometimes you just have to put your money where your mouth is. It's so easy to slip into this lull of overthinking everything. We wanted to be doers." Micro Organs' Matt Blanchard sat in on drums during the tour, which featured plenty of rad bands like Shearing Pinx and Bad Vibrations (playing with Cop Shades, the Deadly Hearts and Mean Mug Friday at the Seahorse) and at least a few disgustingly delicious McGangBangs.
The band will be heading out across the country again in August and plan to work on new material before then.
McDonald is a busy dude - when he's not playing in Cop Shades or the increasingly busy Red Rum, doing sound at shows and/or recording bands, he puts out a weekly webisode called The McDon's House. Each episode features taped footage of bands stopping by and playing songs in McDonald's basement, along with segments featuring McDonald's brother Ryan espousing on a number of wild subjects and Eric's Trip drummer Marc Gaudet sharing his "Best Albums in the History of the Human Being." It's pretty funny stuff and all the bands sound great. You can check out the latest episode featuring the perfect Billy Ray Cyborg below. All episodes are available to watch here.
THE MCDONS HOUSE // Season 1 - Episode 6 from Superbob Records on Vimeo.