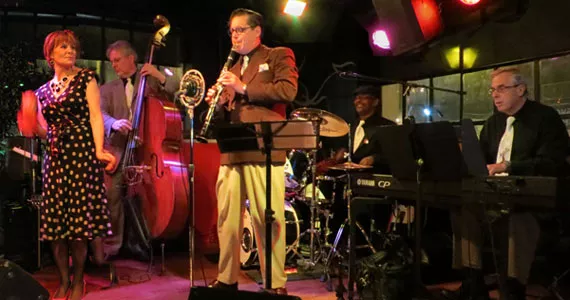 "It's the sum total of all the skill and experience and music that we love," is how Jack Malmstrom describes Low Down Dirty Swing, Live, the new album by his jazz band. "It's a really accurate record of what it's like to hear a live Jack's Cats performance."
And while that might seem obvious given the album's title, Malmstrom asserts that there was no post-production trickery. In November 2013, Jack's Cats gathered at The Music Room, "warmed up, opened the doors, let in an audience and recorded a show," he says. "We didn't do any overdubbing. The takes are as you hear them."
Originally hailing from southern California, Malmstrom spent a decade living in rural Nova Scotia before moving to Halifax with the express intent of forming a vintage jazz group: "My goal was to get the very best jazz players in town." He assembled a lineup in which included himself on clarinet, Kitty Farmer on vocals and Dave Skinner on drums, along with "side men" on various instruments who "rotate from time to time depending on who's available."
Malmstrom says he formed Jack's Cats with the intention of giving music fans opportunities they might otherwise lack: "You can always go to a record label's catalogue and pull up great vintage jazz, but there isn't a lot of chance to hear this music performed live."
Jack's Cats performances "recreate the original feel of what it was like to go to a nightclub in the '30s or '40s" Malmstrom says, carousing and swing dancing included. He's careful to note that it's not a total time warp: "It's a vintage scene, but it's also a contemporary scene. It's a big party."
Helping keep things in the modern age are the original compositions Jack's Cats plays alongside the classics: "The tradition in jazz is that you take standards and interpret them and that's where the creativity comes from, but our originals"---five of which appear on Low Down Dirty Swing, Live---"are becoming our most popular numbers, so I think we're going to be doing a lot more of that."
---
Jack's Cats
Saturday, May 24 at 8pm, $11/$15
The Company House, 2202 Gottingen