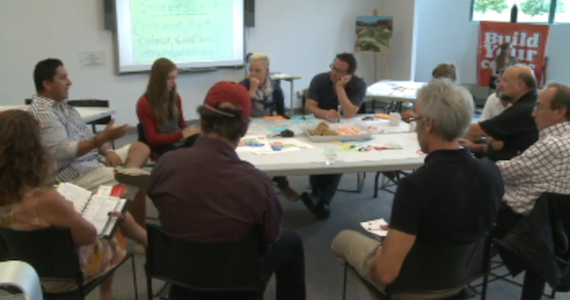 The public consultation sessions for the convention centre have hit the road, travelling throughout the province and hearing from underwhelming audiences.
Monday, consultant Tim Merry and his team went to Sydney, where 23 people showed up to talk about the convention centre, with another nine following on line.
Tuesday, the Stellarton consultation was downright cozy, with just 11 people sitting around a single table. Five of those were the consulting team: Merry, his assistant Rachel Derrah, Trade Centre Limited president Scott Ferguson, developer Joe Ramia and architect Noel Fowler. There were additionally five people being consulted, constituting "the public," and someone who identified himself as "writing about this," presumably a reporter. Not at the table but in the room was musician Jenny MacDonald, who welcomed the group with guitar music, and a tech guy, livestreaming the event. Seven people, including a Coast reporter, followed along on line.
Wednesday, just eight people showed up to talk to the consultants in Truro.
Merry is being paid $200,000 to conduct the consultations, with half that cost paid directly by taxpayers. Unless hundreds of people suddenly turn out for the remaining consultation sessions in Wolfville and Lunenburg, the cost of the consultations will work out to about $2,000 per person consulted.
No spectacular new design insights were produced at the consultation sessions. The Sydney group agreed that the convention centre complex should be "iconic." "That's the architect's job," said Merry. Another Sydney-ite said he'd like the convention centre to have display cases, with each county in Nova Scotia managing the diaramas within. Another person took that idea one step further, saying that the county displays should be interactive, like video games.
The same single on line comment was made during both the Sydney and Stellarton sessions: "It will create jobs for not only those with degrees, but for those with without them," wrote the commenter twice. "Great for all ages."