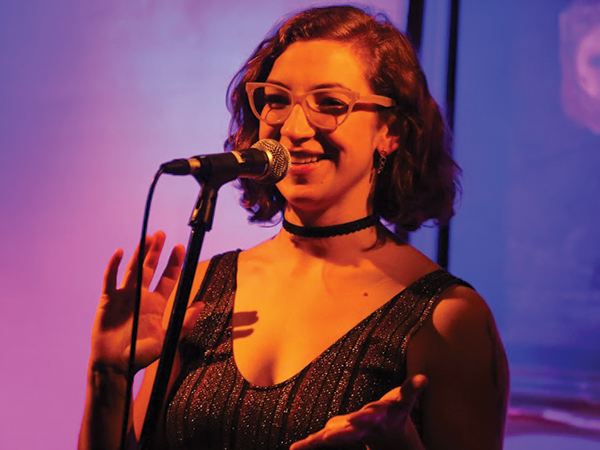 Constellate: "Form or cause to form into a cluster or group; gather together." Or, in the case of the local storytelling series of the same name, "to provide a space and opportunity for people who wouldn't normally have their voices heard," says Greg Puncher, one of its co-founders.
For the past six months, Puncher and partner Emma Sylvester have put together nights of stories on a theme. They've included Self-Love (February), "pro- but also kind of anti-Valentine's Day," says Sylvester; In Our Nature (April) for Earth Day and At Odds (March): "That one was all about people being at odds with themselves, or a family member, or society," says Puncher. "That one wasn't as cheery as others." "We like to choose themes that can be interpreted in different ways," says Sylvester, "that lend themselves to different kinds of stories."
Inspired by the likes of The Moth in New York, the couple began Constellate because they love storytelling, but also "we're both community-oriented people," says Puncher, "so we were looking around for ways in which we can contribute to community and local charities."
All proceeds from the shows, which have regularly sold out Good Robot's back room, go to a designated charity each month. This month's Pride-themed lineup OUTspoken supports The Youth Project, and will happen for the first time on the turf outside to increase accessibility (and capacity). The shows are recorded and will be presented in podcast form beginning in 2020.
"For some people they're telling some very vulnerable stories," says Puncher. "I think that the medium of storytelling really lends itself to a pretty intense level of empathy," says Sylvester. "People really get into it and feel it with the storyteller. The main takeaway, I feel, is that there are a multitude of experiences and a multitude of lives are lived, and we want to create a space for people."