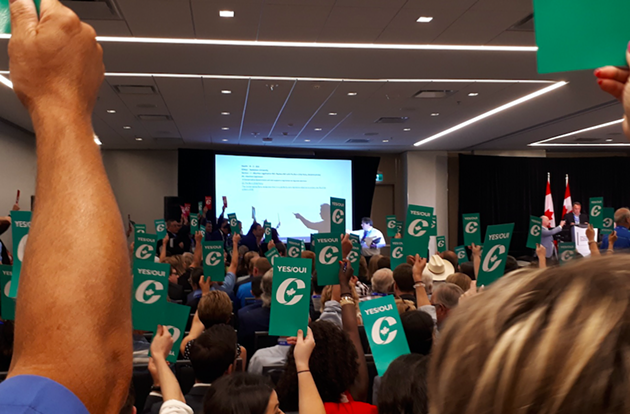 No abortion debate, no euthanasia, no "passport babies." Conservative Party members gave Andrew Scheer his marching orders for the 2019 election.
At the Conservative convention in Halifax over the weekend, delegates from around the country voted on policy resolutions that should steer the direction of their Party for the upcoming federal election.
Thirty policies made it to the final vote on Saturday afternoon, with the membership passing 27 of them. Some of the successful entries were boilerplate fiscal conservative motions like allowing competition into the telecom industry, ending corporate welfare and striking down intra-provincial trade barriers on alcohol.
The more contentious debates happened around socially conservative proposals.
One of the resolutions would have allowed the debate on abortion to be re-opened, erasing a line in the Conservative Party's policy book that was explicitly put there by former prime minister Stephen Harper to counter Liberal attacks that Conservatives had a "hidden agenda" to make abortion illegal.
Cathay Wagantall, a member of parliament, urged delegates to vote for the motion, while deputy leader Lisa Raitt spoke against it. Ultimately, the motion died in a tight vote.
Another of the most contentious debates was to end birthright citizenship. This would mean that babies born in Canada, if their parents are not citizens, would not have Canadian citizenship. Calgary MP Deepak Obhrai argued against the proposal, saying that, "We cannot choose who is going to be a Canadian and who is not going to be a Canadian." However, Alice Wong, MP for Richmond Centre, argued that "passport babies" were a serious issue, and that "we should fight for our own babies."
Even though, as freelance political journalist Justin Ling reports,
there is no evidence that this is an issue
in Canada, the resolution eventually passed.
The membership also debated a resolution that would have recognized pornography as "a public health risk affecting individual and public health." Advocates for the resolution argued that this was a motion to protect women. Advocates against said the state doesn't belong in your browser history. It too was defeated.
Some of the policies passed may have some interesting implications should they become law. The Conservatives ended up passing a motion that ensures government-funded programs don't need to endorse "government ideology in order to be eligible for government funding." They also passed a motion that would ensure freedom of speech for all Canadians. Speakers said this was necessary as universities, which are funded in part by provincial governments, were restricting freedom of speech.
Members at the convention also voted for a policy that "any child born alive shall receive the full benefits of life-saving care, and
neo-natal
intensive care to give every opportunity possible for the child to sustain life." Doctors at the convention argued that this is bad policy. Sometimes babies are born with conditions that limit their lives to 24, or 36 hours, and there's nothing that can be done for them. It would force medical professionals to keep the baby alive, even if it was against the wishes of the parents, or if there was other care that they could be providing.
Other debates, like the resolution to recognize the capital of Israel as Jerusalem brought out an uglier side of the delegates. One voting Party member from Niagara Falls prefaced his comment by saying he wasn't anti-Semitic and "loves the Jews to death." He then complained that "I don't want garbage in this country," before continuing on to say that Syrian Civil Defence force troops were actually ISIL members and urging people to search YouTube for conspiracy theory videos.
The
departure of Maxime Bernier
from the Party on Thursday meant that the lack of policy vote on supply management come Friday was a hotly contested issue. In the economic policies debate session, time ran out before supply management could be raised. Some delegates believed there was an effort from the party to block debate and prevent a vote, pointing out that the session was moved to a smaller room where standing votes were not allowed and voting was delayed by 30 minutes.
None of the policies passed over the weekend
are
binding to the leadership if Andrew Scheer's team doesn't want to adopt them.