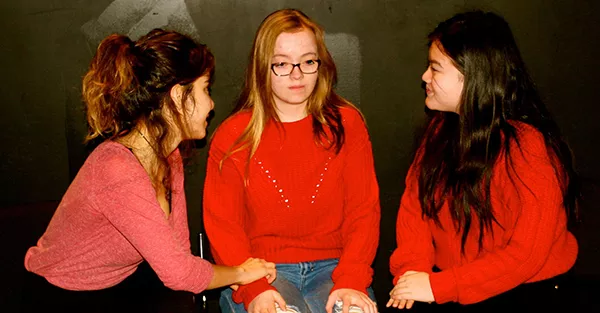 In Concord Floral, suburban Toronto teens adopt an abandoned million-square-foot greenhouse as their hangout, imbibing and exploring. Then two of them find a body.

"The rest of the play is this fallout of why is there a body here, is it even there?" says Pamela Halstead, directing the production for DMV Theatre in partnership with the King's Theatrical Society. "They don't call the police. A couple people did it, a few people witnessed it and nobody's saying it." The production runs until January 13 in The Pit at King's.
The play is a 2016 Governor General's Literary Award nominee for the playwright, Jordan Tannahill—who is 30 and has won two other GGs—and was created by the author with actual high school students in Toronto. The story comes from two disparate sources: A real building in Vaughan, Ontario and The Decameron, a 14th-century collection of novellas by Giovanni Boccaccio about a group of Italian kids who escape a plague by hiding out in an abandoned building.
Halstead's cast is a mix of high schoolers and KTS students, ranging from 14 to 23. "It's pretty raw," she says. "Tannahill has specified that this show should not be performed by professional actors.
"They talk how kids talk, about drinking and drugs, sexual awakenings. Some of the conversations I've had with the high school kids, they're blown away: 'This is real, they talk like we talk, they're talking about things we talk about.'"
Working with less experienced—or in some cases fully inexperienced—actors is mostly the same for Halstead as working with professionals, but she is keeping a closer eye. "As a director, you're always watching your cast to see where they're at emotionally. Content in the show can be triggering emotionally," she says. "Pro actors have more experience doing that, and if they're going to take the show they have their own experiences they're gonna mine, but these kids don't have those filters yet."
Concord Floral is not a straight-ahead drama, it contains fantastical elements often found in Tannahill's work—characters include the greenhouse itself, a couch and a fox; the body that may or may not be inside starts calling the lost phone's owner. It's been staged on astroturf and inside a former Staples. The Halifax production will be performed on a bare stage.
"The play moves very quickly—it flows in and out, in many ways it's a choral piece," says Halstead. "There's chunks that are monologues or scenes but there are whole chunks where they're talking together—it's part of why the piece works so effectively, they have to be aware of each other physically and vocally and emotionally. The piece has to flow through. I can't really imagine doing this piece with a set per se—we shift from reality to past to present to imagination seamlessly, so how do you do that?"
Entrusting a dense, rich, layered work to a group of young amateurs may seem like an artistic gamble, but it's offered surprisingly tender moments less likely to happen among more seasoned performers.
"At one point we're in the middle of a scene and I'm worried about the kid who's playing this right now, and I turn and I've got two other kids standing on stage with tears coming down their eyes," says Halstead. "Which means what we're doing in the work is working."