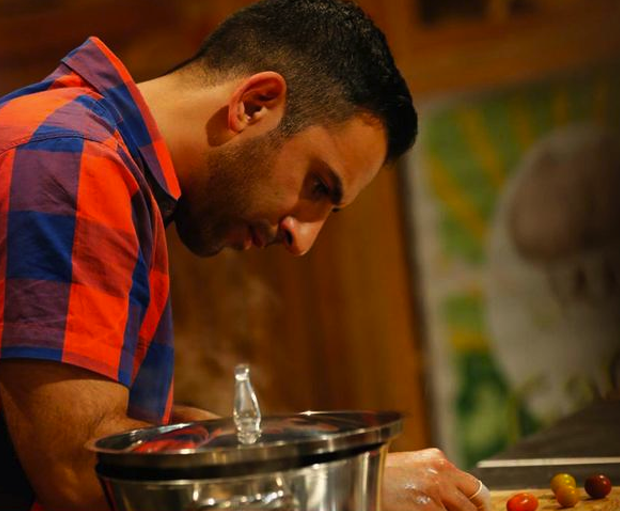 Remember
Andrew Al-Khouri
? The plucky Cape Bretoner-turned-Haligonian made a splash on
Master Chef Canada
in 2015, earning his spot on the airwaves with a
no frills
donair gnocchi and tapping out in the top 10. Then, he was a tax officer with a passion for cooking bored by his day job. Now, he's opening a restaurant.
"I've always liked
freedom
to be who I want to be and do what I want to do. The worst reality I can think of is one where I have to do one thing for the rest of my life," says Al-Khouri, who's operated a catering and private chef service—
Zatar Catering
—as a side hustle since competing on the show. But after a couple of years of planning, he's found a home base for his food.
Come
the end of November he'll debut
aFrite
, a 30-seater spot with a small menu at 1360 Lower Water Street, the former
Choco Cafe
.
"It means fried in French, but what it
really
is named after is something my mom used to call me when I was
kid
. In
Arabic
it means shithead, troublemaker, little devil. It's an endearing term," he says, with a laugh. "I got all my motivation and inspiration from learning from my mother and seeing her amazing Middle Eastern-style cooking."

aFrite will have an entirely open kitchen, some communal seating and a chef's bar and an ever-changing chalkboard menu where each dish and appetizer will have a suggested beer and wine pairing (thanks to sommelier
Danny Hewitt
and
Tidehouse Brewing
Co.
).

"There is absolutely no genre. People ask what I'll be serving and I say world fusion which essentially means nothing. And everything. The point is not having restrictions—being a troublemaker," says Al-Khouri. "If we want to have foie gras one week and spam the next, we will."
He'll be a bit of a switch hitter, spending time in the kitchen with chef
Pam Eye
but also helping out with service, aiming to provide a dining experience that's interactive, fun and delicious without abiding by any set-in-stone parameters. And yeah, there'll probably be some donair gnocchi.
"The idea is to offset what's already down there with something different," says Al-Khouri. "It's built around what I think Halifax needs, which is a little culinary flair."