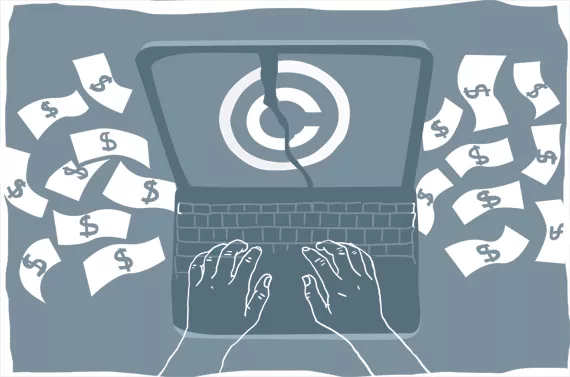 Staffing troubles have fired up at the Nova Scotia Community College's IT campus, and it's the students who may end up burned.
According to students, instructor David Jellicoe, faculty at the Leeds Street Institute of Technology, has been let go by administrators for copying his lessons wholesale from online sources.
Jellicoe was up until this week teaching several courses, including web design, operating systems and a PHP programming class. It was in the latter that a student discovered something fishy, after coming across a $10 PHP course online which eerily matched the assignments Jellicoe had been handing out exactly.
"He did nothing himself," says NSCC student Allen Pooley. "So, we're paying five, six hundred bucks for a course I bought for $10."
Other students determined web design lessons Jellicoe was using were close to a decade old, and software he was distributing to his class was pirated. Pooley says he brought the evidence to a meeting with the college's academic chair. Shortly thereafter, Jellicoe was put on leave pending an investigation.
Rosalind Penfound, NSCC's vice president academic, says she won't comment on any specific staff issues, but did confirm a faculty member was investigated due to a copyright infringement matter raised by students.
"We take that very seriously," she says. "So we're looking into it, investigating the circumstances around and determining the facts. Only when we have that will we know the position we're in and the actions we'll take."
The biggest concern for Jellicoe's former students is now what happens to their degrees. Nearly an entire semester of a tightly-scheduled two-year program has essentially been rendered forfeit. Pooley says there's been some talk of making up for the lost lessons with extra work next semester. But the student already works two jobs, and doubts he has the time or even desire to put in extra time replacing the hours NSCC has already wasted.
"Really, I just want me damn money back," he says. "We have been essentially robbed for the last two, three months."
Penfound says the school is still figuring out how to make up the time for the dozens of affected students. She wouldn't rule out a refund, but says any decision is still yet to be determined.
"Our primary concern is always the students," says Penfound. "That's our number one concern at the moment. We now have other faculty who are stepping up to give us a hand to make sure we have that covered."
That's little comfort to students like Pooley. While he's happy Jellicoe won't rip off any future classes, this incident has still made him lose his trust in the quality of NSCC's program.
"Really, this is the quality of learning I'm getting out of this?" he asks. "I'm going to go learn online."
Elsewhere in NSCC's faculty, one instructor is facing disciplinary action because a naughty word ended up on his whiteboard. Information technology teacher William Cunningham is being investigated by administrators after an "inappropriate remark" was displayed to students. Unlike Jellicoe, NSCC says this other instructor remains at work while the incident is examined.