Give the details of your last one-night stand
Elevator magic
A friend of friends; I met him at Nocturne. We went out dancing, then left together. He fingerbanged me in the Scotia Square elevator, and then we went to his place to bang for real.
Nipple stains
He had freshly pierced nipples and they bled all over the bed.
Couch surfing
A friend called me up drunk and looking for a couch to crash on. They didn't stay on the couch…we're still friends!
Jailhouse knocks
Jail guard friend of a friend, great body!, horrible sex, she was the greediest sex partner ever, after I got her off she was totally over sex so I ended the night pounding one out.
Tailgate party
We met at Cheers, walked across to the Prince George parkade and had sex on the tailgate of her truck, and went back to Cheers.
Accent the positive
Drunk, British accent. 'Nuff said.
The gusher
Had a shitty one-year relationship at the time. Drank with a good female friend and we ended up fucking for hours. Made her gush for the first time. Cuddled. Broke up with my girlfriend the next day. Became better friends with the friend I fucked.
Three tongues
Unexpected. Went out for casual drinks with a few girlfriends and ended up spending the night with a very attractive German guy. One of the top three fucks in my life, I'm still not convinced he didn't have three tongues.
Too much
He was too big (!), and into spanking, which I am not.
Going out for some bruise
Met at a bath house, followed this leather-person around like a puppy dog until I got the nerve up to ask to fuck. Proceeded to get the shit thoroughly pounded out of me. Got up the next day with a boot print bruised into my chest. SO hot.
---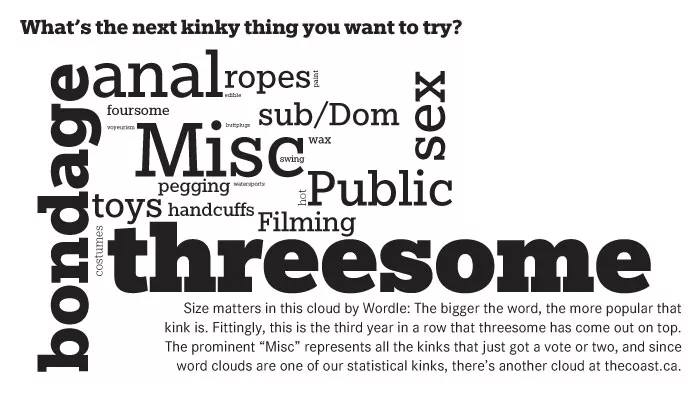 Start to finish, describe your fantasy date
All natural
I would love to just hang out and talk. Take a walk through the woods or a park. Somewhere where nature surrounds you. I would love to see if that person enjoys nature as much as I do.
A bicycle built for TIBS
A nice early-summer afternoon, starting with a bike ride to Two If By Sea, tea, then perhaps a walk in Point Pleasant Park. Later, a play or concert, or simply a trip back home to cuddle and watch Star Trek. (Yes, I'm one of those.)
Nerds!
Hours upon hours of building things together. Preferably electronics, robotic art installations, or video games.
Me, improved
I am not awkward in any way and impress the crap out of her.
On the boardwalk
We have dinner and drinks, he makes me laugh until I have tears, we go for a walk on the waterfront and it's a beautiful night, then we go to an awesome live show.
Let's do this again
We meet. We talk. We have things in common and are interested in each other, so we arrange to meet again. The parting is awkward but sweet.
Hey guy
Ryan Gosling lets me punch him in the face after much discussion of boundaries and consent.
We'll need some dough
We'd spend several hours constructing a six-foot-squared blanket fort, with just enough room to sit upright on the scattering of pillows. There would be raw cookie dough. We would cuddle in our onsie pajamas and spend all day on a snow day watching Community.
---
Share a scenario you've been in that could be from a porn movie
The amazing race
Had a foursome with friends (2 girls, 2 guys). Drunk at a bar, made arrangements. Guy 1 and guy 2 raced us girls home. Other girl and I got in the shower together before guys came home, and then you know the rest...
It takes three
I was involved in a FFF threesome a few years ago with 2 hot blondes (I'm a hot brunette), one had fake boobs and the other had "Pop Rocks" ;) One of their boyfriends came in and joined for a bit but left because we weren't paying any attention to him.
Throwing in the towel
A buddies ex gf came out of the shower, sat directly across from me with only a towel wrapped around her. Proceeded to spread her legs and give me a show before she blew me.
Aim for the ski boot
Blew a guy in highschool while my boyfriend watched. Dude came in bf's sister's ski boot.
Beach with a view
Fucked all day long on semi-private beach. There was a row of high-end houses in clear view the entire time.
Clothing optional
Had rough anal sex with my corset, thong and heels on.
Wipe down after use
Had sex on exercise equipment in fitness room.
Whatever you say, officer
I had a cop for a fuck friend once. It was pretty wild for me because at the time I was fairly conservative in my sexual views. He wanted me to blow him and then cum on my face. It was the first time for me and pretty hot. We both loved it :)
…and then the landlord arrives
I was masturbating when I suddenly heard a knock on the door. It was the landlord doing plumbing inspections (legit). As I heard the key unlock, I managed to hid the toys but had to greet him in only a suspicious sheet over my nakedness.
---
Confess a sexual secret that you've never told anyone else
Taster's choice
I can recall the taste of every person's cum I've had---delicate palate.
Abs-olutely
I once masturbated nine times in one day. My abs hurt sooo bad afterwards. I think I was doing it wrong.
One more drunk time
Eventhough the secret sexting and make out sessions ended with the married guy, I still really want to have drunken sex with him in his big truck.
Go folk yourself
I sneak traditional folk music into playlists to have sex to, and it's a game to see if my partner will change the track or not. Weird game but it's what I do!
Fist things first
I fisted my first real girlfriend and she got wayyyyyyyyyyyyyyyyy too into it it was all she would want me to do, it kinda ruined the relationship.
In case of emergency
I would love to try it with a girl, but it would have to be a threesome with a guy there too in case I got scared and needed some penis.
Boar-ing
I masturbate thinking of sex with pigs, especially being "forced" to lick the balls of a boar.
---
If the world was ending on, say, the Mayan Apocalypse of December 21, tell the sex fantasy you'd want to act out before you died
Roughen ready
Maybe being smacked around a bit…too bad my lovers are all just the sweetest guys.
Once more with feeling
A certain old partner of mine would come back to me and profess his love, plead with me to take him back, which I would. Then we would spend the night having amazing makeup sex.
Whatever you say
I'd like to be someone's temporary slave.
Happy ending
Oh dear. It'd probably have to be the most gentle sex ever, mostly in the interest of mutual comfort as the end came.
Virgins!
Um, get married, have a loving first time with my fellow virgin husband. I would be doubly happy if he were as inexperienced as I was and it was a little bumbling and funny and adorable.
Blast from the past
A second chance on a threesome I had a few years ago that went bust. Two 20-year-old nympho chicks from out of town. Smoking hot...into eachother more than the guy. I would love another go at that.
Work it out
With my hot coworker, in the little room in front of the director's office.
What's up his ass?
If the world was ending hopefully I'd be able to convince my pretentious friend to let me peg and standard fuck him while blindfolded. Maybe tied. Oh my god, I shouldn't have thought of this right now...
Last but not least, please share any suggestions about sex and/or dating and/or Halifax
It's only sext
Guys in Halifax need to realize some girls just want sex too, not a relationship. Text them back!
Play with yourself
Put yourself first, and experiment. You can't tell a partner what you want if you've never experimented with yourself first.
Be the spoon
Be a good cuddler and you will go far, my friend. Don't be afraid to be the big spoon, gender roles be damned. Inside everyone is a big spoon and a little spoon.
Oral fix
Out of every guy I've slept with only one has been able to make me orgasm while eating me out. Boys... get to learning how it's done.
Be prepared
Always bring protection. Halifax is a happening single scene and you never know when you will get it in ;)
The best policy
Cheating is for cowards and it seems everyones doing it. Its selfish and disgusting. If you're not into someone anymore, be a man/woman, grow a pair and be honest and leave. Honesty seems to be lost among people these days.
Work out those kinks
Don't tell people too early about your sexual kinks. But also don't wait too long. You don't want to waste time with someone who isn't going to allow you to explore your sexuality if you please.
In the pubic interest
More bush ladies! (Maintained, of course, but bald is just boring.)
You're welcome
This was a lot of fun and helped me procrastinate. Thanks, The Coast!