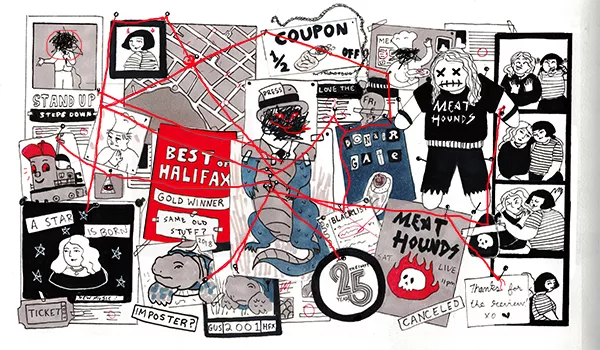 O
ne thousand one hundred and fifty-seven issues leave a lot of lines for readers to read between. Are Coast writers actually a bunch of left-leaning, pot-smoking, Green-voting, indie-rock-lovers? Is Jacob Boon actually a talking dog? Strap on your tinfoil hat, here are some of the misunderstood conspiracies about this little paper.
Best of Halifax is an inside job
You can halt production on that YouTube truther doc because this isn't a thing. A rigged survey would be easier, for sure. Unfortunately, we don't take easy routes over here at Coast HQ. We've spent hundreds of hours tabulating votes, sifting through the various different spellings of each one —Darells/Darryls/Darrel's/
Deryls
/Darrell's/that place with the
penut
butter bugers—deleting suspicious ballot stuffers, calling winners and writing about them. Is the BOH a popularity contest? That's how all votes work: the person with the most wins. Sometimes popularity has to do with name recognition, sometimes it's in-your-face campaigning. Sometimes people pay for ads to do said campaigning—sometimes those people lose!—and sometimes the actual popular kids are too cool to even want to win, so they don't. Either way, it's a readers' choice survey. Coast minions don't get a say in
squat
.
The friendocracy

The most time-worn Coast conspiracy is that we only write about our friends and you have to have some kind of "in" to be on the cover. Honestly, we wish we had that many friends. Some weeks we five in the editorial department can't even cobble together enough names to fill the
birthdays
box on the horoscope page. And we can't write about our actual loved ones thanks to a nifty conflict of interest policy.
Anyone wanna
hang out?
The Coast staff are scene-deniers
All scenes were created equally, all neighbourhoods are valid. Though every sparkling snowflake out there deserves an anthology written about their accomplishments we simply don't have enough space to do it. If you've felt left out, it's nothing personal. There is no coverage Illuminati, no sprawling blacklist written in blood.
We are not actively campaigning against:
Metal
Country
DJs
Rap
Jazz
EDM
Comedy
Dartmouth
Non-peninsular Halifax
Theatre
Comic books
Dancers
Small businesses
Development
Photographers
Non-advertisers
The police
Restaurants
Men
Superhero movies
*
You
*OK this one is true. Tara Thorne hates those.
**We sincerely apologize to anyone who is left off this list. It wasn't on purpose.