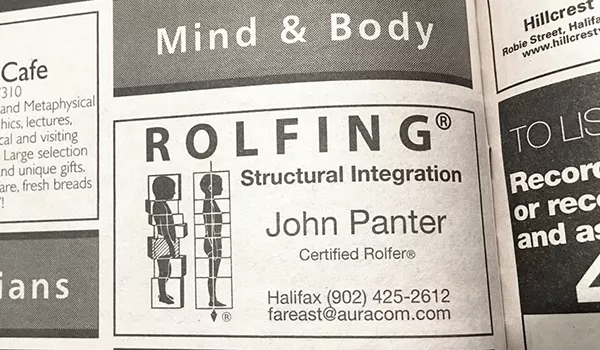 J
ohn Panter has been rolfing chronic slouchers like me in Halifax since 1998—and advertising his services in a weekly ad in The Coast every week since without fail. The practice, invented by Ida P. Rolf in the 1950s, sees the practitioner re-align the patient's body by re-adjusting the fascia, a connective tissue enmeshing the entire body that Panter says is stronger than some metals—"not steel, but certainly copper. We can't talk to tissue but we can show it a better way to be," he explains, sitting in his home office filled with overstuffed armchairs, bookshelves so weighed down they're near collapse, and a box overflowing with back issues of The Coast. "It's about showing the body a better way to work with gravity."
This re-alignment seems to primarily come through the pressing and releasing of pressure points where bones and muscles meet. I lay down on the massage-style table in Panter's treatment room, a tiny space at the end of the hall that has several Chinese silkscreen-style paintings taped on the white walls. A long-haired grey cat chatters as I adjust myself.
"His name is Gandalf, I think, but while I'm fostering him I'm calling him Fuzzy Face," Panter says, lifting my legs in windmills to see my range of motion. He
criss-crosses
my arms across my body as I keep them limp: "Don't help, don't resist, just relax."
Soon, the real work begins. Each rolfing session focuses on re-aligning a specific part of the body. We're starting with the upper back and neck. He drives his thumbs into
the space
where my ribs attach to muscles. I yelp.
He presses along all the muscles in my neck (by the way, did you know your neck has several muscles?) with such intensity I'm sure I'll be left with bruises (thankfully this doesn't happen). At one point, he lifts my arm upwards and jabs into a part so deep in my armpit I shout the name of the entire holy family.
I roll onto my front.
"There are many theories about the dowager hump," Panter says as he pushes along the sides of my upper spine. "Some, of course, is genetics. One theory, though, is that it's a manifestation of all the pent-up physical aggression you have." This feels like a stark contrast to the science-forward talk that he's been giving up to this point, naming each muscle before pressing on the fascia surrounding it.
"Next time you're upset, take a cushion off your couch and punch it." If I wasn't focusing so hard on not swear-yelling again, I'd roll my eyes.
Fuzzy Face jumps up on the table as we windmill my limbs again, seeing the difference in mobility the session's given me. I sit up slowly, and, on Panter's request, look at my posture in the full-length mirror leaning against the wall. I smile as I see I'm significantly more upright, and look about an inch taller.
The next day, I'm moving less rigidly but still feel taller and straighter. I keep catching reflections of myself in windows as I walk around town, impressed by the line my body follows. I'll be back, but I'm not planning on taking pillows off my couch any time soon.