The clouds in Costa Rica are fantastic, and I am so sorry that I, along with Joni Mitchell, don't know clouds at all. But just now an amazing front has come over and brought cold air (!). The sky is so dark I have had to turn on lights. Usually the clouds are as (again) Saint Mitchell has said, "the clouds of Michelangelo, muscular with God and sungold."
I will miss the clouds here, but I am not too too sad. I hope to come back, God willin' and the creek don't rise and Norval says it's ok. And I am going somewhere else with great clouds, a place with a gigantic sky.
I am leaving Costa Rica on April 27th and going to Helena, Montana. In the first week of May I will set out from there to walk the 543 kilometers to Medicine Hat, Alberta, to visit a friend.
The second leg of the walk will begin in western North Dakota and heads towards Toronto via the North CountryTrail.
Instead of carrying my gear (tent, sleeping bag, cook stove, etc.) on my old back, I am going to push it, in a model of the Bob Revolution (swanky strollers; Mountain Equipment Co-op stocks them) called the Cargo Carrier. Like, I suppose, some post-apocalyptic bag lady.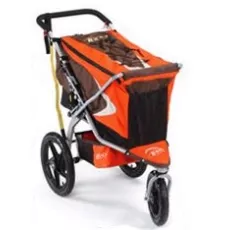 The Bob Cargo Carrier in Mesa Orange.The blue version seemed too postal.
I have wanted to go on a long walk since 2004, when I was on The Long Bike Ride (I turned 50, bought a bike and rode from Halifax to North Carolina) and sometimes wished to be walking instead of biking. So now it's six years later.
In some ways, I am more prepared this time. I have been walking a lot in Costa Rica, in too much heat and on uneven, tricky surfaces. I quit smoking. (During the Long Bike Ride I smoked a deck a day.) One of the difficult things on the bike ride was that my tent was too small. I could not sit up in it. I started out in early August; by the time I was in the US it was hurricane season. I was drenched often and stuck in my tomb-like tent. This time I plan to get a tent that I will be more comfortable in, especially if I have to hole up for a few days. And I am starting out three months earlier, and should be able to avoid heavy hurricane rain.
Oh ya - I hear you: "Uh… Kansas… What about tornadoes?"
My answer to that: I dunno.
Another thing I have no good answer for: the wide open spaces of Montana, Alberta, North Dakota…
On the ride down the eastern seaboard, there was always a town or gas station down the road. I very rarely got caught in the middle of nowhere with no food or water. Walking in the mid-west is going to find me in the middle of nowhere, often. I am going to have to be serious about how much water I carry. There are going to be problems. I do know that sometimes it is going to really, really suck. These days I remind myself how nice it is when I turn on a tap and get water, log on to gmail and have contact, walk five minutes and find an ice cold diet coke.
I'll have my wits about me. As a walker with a faux baby carriage, I'll be able to get a ride if I need one much more easily than I could with a bike and panniers.
I don't want a cell phone, but I do want a SPOT Personal Tracker. This little gizmo lets you call 911 from anywhere in the world, plus send "I'm ok" signals and other nifty stuff.
I am going to carry pepper spray. In Costa Rica I have met many many loose dogs as I have been walking, and not been afraid once. Most of the time it is too damn hot for woman or beast to get any kind of a twitch on. But just in case I meet up with an angry dog…
If there's a storm comin' I'll get off the road and into wherever safe I can.
I'm going to avoid big roads as much as possible. Where there are trails I'll use them. Delorme publishes a series of state back-road atlases which show tiny roads. I'll chat up locals. Google maps, when you ask for directions, has a startling beta option: walking.
I am signing on for the difficulties of the road. I look forward to the problem-solving exercises. And that sky! That big big sky.