A year-long research project from Oxford University's Environmental Change Institute says small-scale farms in the Maritimes are vulnerable to rapid and long-term disruptions caused by climate change.
Just how vulnerable is "vulnerable?"


"Pretty vulnerable, is the answer," says Bernard Soubry.
The Master's candidate in environmental change and management compiled the
newly released study
, which says the impacts of climate change are already being felt by local farmers. Over the next 50 years the region's food production, storage and transportation will all be significantly at risk.
"All of that could potentially be undermined by climate change," Soubry says. "We're looking at a much larger, much more systemic problem, and our response to it has to be much larger and much more systemic."
Originally from Montreal, Soubry moved to the Maritimes in the mid-2000s where he worked as an apprentice on local farms before continuing his research in England. His qualitative study doesn't feature any statistical analysis of climate data, but it is a window into the concerns and perceptions of Maritime producers.
Assembled from some 40 interviews conducted with farmers, NGOs, retailers and government agents, the report found growing concern from agricultural figures about "increasingly erratic" weather patterns and a shift in growing seasons.
Those results match scientific projections from the
Intergovernmental Panel on Climate Change
that predict longer autumns,
increased droughts
and generally unpredictable weather patterns will dominate North American food production.
"I think oftentimes there's a misunderstanding of what climate change brings to a region," says Soubry. "It's not necessarily an increase in temperature in every region, over time, in a linear way. It's moving towards more erratic extremes."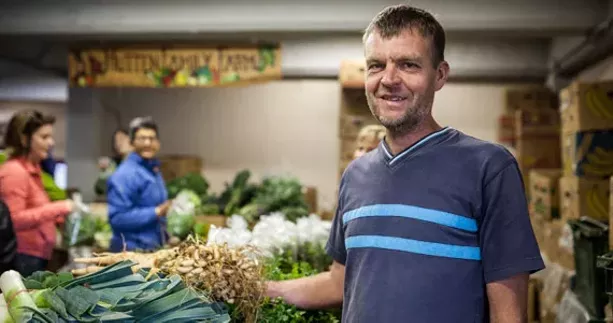 At 51, Ted Hutten has been farming for pretty much his entire life. This year has been the best growing season the
Hutten Family Farm
has seen in a decade, he says.
Last summer? It was the worst in 20 years. The forecast for the future, as one would guess, remains cloudy.
"It's just difficult to predict if you're going to have a wet summer [or] a dry summer," he says. "It's just difficult to predict anything involving the weather."
In response to the turbulent seasons, farmers are betting heavily on diversification. Planting a wide variety of crops—while leveraging greenhouses or other technology to artificially extend the growing season—helps secure against sudden and severe weather events.
It's natural selection, says Greg Gerrits, owner of
Elmridge Farms
. If the weather changes and certain crops fail to grow, the smart farmer moves on to something new.
In one of the ironies of climate change, the warmer temperatures actually open up Nova Scotia's northern climate to all sorts of new crops. Take the sweet potato, for instance.
"If you told me back in '95 I could grow a big crop of sweet potatoes, I would have thought you were a little crazy," says Gerrits, who experimented with the tuberous root vegetable 20 years ago to little success.
"Now we're counting on them as a big crop every year," he says. "Ironically, sweet potatoes being a crop that is really not of Canada in any way."
Part of that comes from
selective breeding
of short-season yams more tolerant to Canada's climate, but an upswing in temperatures is also at play.
The average temperature in Nova Scotia
rose half a degree
across the entire 20th century. It's expected to rise another two to four degrees over the next 80 years, creating "
catastrophic, irreversible consequences
."
Despite this, Soubry says there isn't a lot being done by the government to mitigate the risks of climate change for family farms. There's no provincial climate change strategy for food systems in any Maritime province, and what support programs are
available
tend to be designed for large-scale agricultural producers.
"Anything that comes down the pipe federally, for sure, is designed for guys putting grain in the bin," says Gerrits.
"If you're a small farmer with a very diversified farm, you don't neatly fit into the current system," says Satya Ramen, senior food co-ordinator with the Ecology Action Centre. "It feels like there's a little less of a lens on how to support those smaller farms."
Recently, the federal, provincial and territorial ministers of agriculture agreed to a
new five-year funding plan
for support programs—a key component of which is a focus on climate change, says departmental spokesperson Krista Higdon.
The province will also be developing a new suite of programs to address climate change risks
prioritized
by the Canadian Agricultural Partnership, as well as continuing a "risk proofing" project for Nova Scotia's wine and grape industry that Higdon says will be replicated in other agricultural sectors.
There's also ongoing flood risk mapping, rebuilding and relocating dykes for future sea level rises and restoring the flood plain in the Truro-Lower Onslow area.
So the province isn't doing nothing. But to some degree, it doesn't matter. Soubry's interviews found that most small-scale farmers often reject what support would otherwise be available to them over a philosophical opposition to government intervention, and a general dislike of bureaucracy.
"They go out touting diversification, but they don't take it into account when they come up with their programs," says Gerrits, who
found
the "daunting" paperwork from the province for each crop planted ended up costing him more money than was being saved. "They want you to record everything, everything, everything."
Soubry instead recommends alternative supports, like the creation of a coordinated Maritime agricultural task force to simplify communication between farmers, government and industry players across provincial lines.
Community distribution methods, such as CSA boxes and co-ops, can also help spread the financial risk of climate change events while forming strong bonds with customers, he writes.
And community may ultimately be the key to the small-scale farmer's adaptability, especially as rising sea levels,
flooding
and coastal erosion threatens to cut off "significant pockets of the Maritime region."
Those interviewed by Soubry spoke about the closeness of their field, whose members share information readily and are always offering advice.
There's also another strength the Maritimer has in adapting to the impacts of climate change: a long history of terrible weather. Being at the mercy of mother nature isn't an unfamiliar position in this part of the world.
Dealing with uncertainty
is,
the study notes, "a basic reality of farming" in the Maritimes.