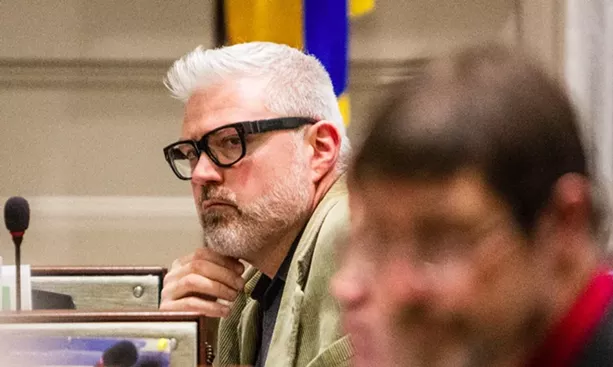 Ask Shawn Cleary about his friendship with Joachim Stroink and he'll tell you something this town already knows.
"In Halifax, it's one-and-a-half degrees of separation," he says. "Everybody knows everybody."
The councillor's platonic relationship with Armco's latest hired gun doesn't raise any ethical or legal conflicts, he says, even as the development firm tries one last Hail Mary to get its Willow Tree tower passed at city hall.
If anything, Cleary thinks having Stroink at the table makes things more difficult.
"People know that we know each other," he says. "Having him work for Armoyan probably presents more challenges for me than it grants them any favours."
Cleary has known Stroink for many years, having previously served as campaign manager in the former MLA's "very successful" 2013 bid for the riding of Halifax Chebucto.
Several months after losing that seat in last year's provincial election, Stroink started showing up at City Hall in his new role as Armco Capital's government relations representative. In that
job
he's been helping convince council and the public to grant Armco an extra five storeys on its proposed tower at Quinpool Road and Robie Street.
Armco's property wing, APL, previously got council's blessing in 2016—against the wishes of staff—to build 29 storeys across from the Common. A newly elected council clipped that height back down to 20 last year to fit the maximums set out in the draft Centre Plan.
But before there could be a public hearing on the matter, APL announced through CAO Jacques Dubé that it could only make the development financially viable at 25 storeys.
As an olive branch, the company is
now promising 10 affordable housing units over 15 years
if council approves the extra height.
Cleary says he's met with Stroink about Willow Tree, along with everybody else "across the spectrum" of development opinions. He recognizes the optics may seem suspicious, but, hey, this is a small town.
"That would be like saying the mayor went to dinner with a developer, and therefore [the mayor] can't have a stake or a say in what's going on," says Cleary.
During the 2016 municipal election, Cleary campaigned on a
platform of transparency and accountability
at city hall. He's one of a handful of council candidates who refused donations from special interest groups—including property developers—and recently
introduced the idea of a lobbyist registry
for
council
.
Some of those moves were made due to increasing public criticism about the close ties between Halifax councillors and prominent development firms. It's a concern that ranges from mild distrust to outright conspiracy theories, depending on the day.
Cleary is not immune to those accusations, especially with Stroink in play.
"If I vote for [Willow Tree], that's certainly a risk to me politically," he predicts.
The Halifax West Armdale councillor was one of the majority votes last spring to drop Willow Tree's height from 29 storeys down to 20.
Last week, he was
one of the voices at council
arguing to let Armco have a shot at 25.
Cleary defended the company against comments made during the previous night's public hearing that accused Armco of breaking HRM's planning rules. The developer's play for 25 storeys is,
according to Cleary
, no different than a homeowner coming back to city hall for new permits on their kitchen extension.
More importantly for the councillor, if Willow Tree is approved at 20 storeys the area will miss out on any community benefit. Twenty is already the max height allowed under the Centre Plan for post-density bonusing.
Council
would be giving away height for no reward.
"I think we're doing our city and ourselves a disservice by not trying to negotiate more with the developers who are bringing these applications in before the Centre Plan comes in place," he says.
Urban planner Tristan Cleveland, who was Cleary's campaign chair during the 2016 municipal election, spoke out against Willow Tree's extra height at last week's public hearing. Based on his experience working the Cleary, Cleveland says the councillor is not easily swayed.
"I couldn't convince Shawn to support anything unless his own interpretation of the evidence leads him to that conclusion," Cleveland says in a statement to The Coast, "and I think the same is true in this case."
A supplementary staff report on APL's offer of affordable housing and other community benefits in exchange for five more storeys‒asked for by Cleary‒is due back at council no later than March 20.