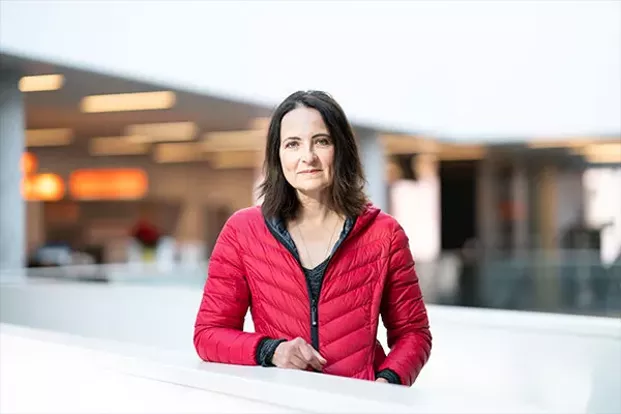 It's been a year since Liane Tessier got her apology. A lot has changed since then, but not much is different.
For 12 years, the former firefighter battled city hall looking for justice. Her human rights case was finally settled last December with a muddled
sorry-not-sorry
from chief Ken Stuebing. Tessier experienced
systemic gender discrimination
, and the fire chief believes she believes that. It's from the "I feel bad you were offended" school of non-apologies, but par the course for HRM.
Halifax has spent the past 12 months explaining away case after case of racism, discrimination and sexism in its workforce, always promising change. We're making improvements. Next time will be different.
Tessier and other victims are tired of those words.
"There were so many opportunities for them to hear me and other women's stories," she says. "I didn't need to suffer for so long."
Even receiving after her apology, Tessier wasn't finished holding the municipality and the Human Rights Commission accountable. She
co-founded Equity Watch
, a citizen advocacy group that acts as both advocate and resource centre for other employees dealing with a hostile work environment.
"A lot of people from HRM are not happy with what's going on in terms of how they're being treated," says Tessier.
Evidently so.
Earlier this year municipal workers held a protest in front of City Hall over the lack of progress in implementing recommendations from a 2016 employment systems review that called out HRM for its culture of intolerance and lack of diversity.
The third-party analysis described an overwhelming culture of harassment in the municipal operations workforce, with employees subjected to racist, sexist and homophobic language and behaviour. The municipality's managers, according to the report, failed to effectively address the situation.
In the spring came a
board of inquiry ruling
that Halifax Transit employees had suffered targeted racial harassment and abuse over a period of several years. The city was liable for the toxic workplace because multiple complaints had been made throughout that time, particularly about one employee.
Arthur Maddox would regularly hurl racial epithets towards his coworkers, including African-Nova Scotian
storesman
Randy Symonds
.
Briefly fired in 2001 after trying to assault Symonds at work, Maddox was rehired when the union filed a grievance on his behalf. He was finally terminated this year, just a week before the board of inquiry's ruling was released.
"These problems are spread across city departments and have been obvious for years to anyone who cared to look, and yet with each new revelation of abuse, city officials always act as if they were surprised," Jackie Barkhouse
told The Coast earlier this year
, one of three former city councillors who came forward with Equity Watch, talking about discrimination issues they witnessed that went unaddressed by senior managers.
Faced with protests, scathing reports and angry councillors, chief administrative officer Jacques Dubé and staff have been
attempting to rectify
some of those past mistakes. Diversity training is now mandatory for supervisors. Workplace harassment policies have been revised. A confidential hotline has been set up for employees to report abuse and an external consultant was tasked with reviewing HRM's HR practices. The recommendations from the employment systems review are all in
process
or pending. City council also
passed a motion
requiring quarterly public progress reports on racism, sexism and harassment complaints.
"There's no doubt there's been racial discrimination, racial harassment within HRM," says Dubé. "I would say there's much less of that now because of the actions we've taken."
Others would disagree.
Kathy Symington, another former firefighter, lost her job and her pension fighting HRM over complaints about sexism on the job. Despite the city acknowledging in its apology to Tessier that systemic gender discrimination exists within Halifax Fire and Emergency, the Human Rights Commission decided earlier this year not to move forward with Symington's complaint on those grounds.
Just 24 hours after Equity Watch held a press conference calling out the HRC for its lack of response, the Commission sent an email announcing
Symington's case will now be heard
, in full, by a board of inquiry next June.
It's a start, but there's still an unwillingness from
city
hall to be transparent and commit to a safer workplace for their employees, says Tessier.
"They're still sort of dragging their feet about doing the right thing."
Maybe next year will be different.