If the city tells you to change the dimensions of your multi-million dollar development, you would probably go ahead and make those changes. That's why you're lame. Not like those rebels with sort-of-a-cause APL Properties, who instead chose to ignore city council's recommendations on their 22-storey Quinpool Road proposal and re-submit the exact same plans, only six storeys taller.
Back in June, two closely-linked developments came to council to be considered for municipal planning amendments. Both proposals are on the corner of Robie Street and Quinpool Road, with Westwood Construction Ltd. wanting to build an 18-storey mixed-use tower on the Robie side (where Cruikshank's funeral home used to sit), and APL Properties Ltd. looking for two joined towers (22-storey and 11-storey, respectively) on the Quinpool side.
As is their purview, staff noted some issues in the report presented to council. Particularly, the buildings' height, mass, density, shadowing and spacing. Council voted to send the plans back to the developers to address these concerns. Westwood tweaked their plans to include a more slender tower and favourable setback, but APL (a division of Armco Capital) increased the total height and called it a day.
"It's unusual, to have concerns listed and say we'd like consideration of that and have a proposal come back that does not address those concerns," says area councillor Jennifer Watts. "I've not seen that before."
Staff found the APL towers were at a distance from each other and their shared property line that were about half the minimum requirements for downtown high-rises.
"In a less dense environment than the downtown, such as the subject site, it would be expected that tower spacing and setbacks to adjacent property lines would be increased as opposed to less than," the report reads.
Reduced spacing with commercial units is one thing, but city staff has a fair point that the space between residential towers should always be maximized where possible for livability and privacy concerns. They recommended APL's development only move forward if they could meet the 11.5 metre Downtown LUB minimum, but APL is sticking with their proposed 5.75 metres.
"We were asked to consider them, and we did," says Armco's vice-president of community development Chris Millier. "Staff's position was that those principles and those standards that are in place for other areas of the peninsula were appropriate for this site, and our position was that; not necessarily."
Millier believes Armco's refusal to play ball is the city's own fault for not offering more accommodating land use by-laws.
"I think it's absolutely reasonable to expect the proposals to bring those out-of-date, antiquated and irrelevant standards that have not been changed for whatever reason into question," he says of Halifax's current regulations. "To go through the process to identify, in our current context, in our current time, what might be reasonable."
Jennifer Watts takes issue with Millier's criticisms.
"I wouldn't call the planning regime we have irrelevant or antiquated," she says. "There's an important balance that needs to be had between increasing density and protecting neighbourhoods...I think density solely for the sake of density is not good planning."
At nearly 600 people per acre, the density of what APL is planning is four times that which is currently permitted in the area. Now, yes, densification has been the watchword for Halifax development these last few years, but that doesn't mean cramming in as many vacant units as possible is the best approach.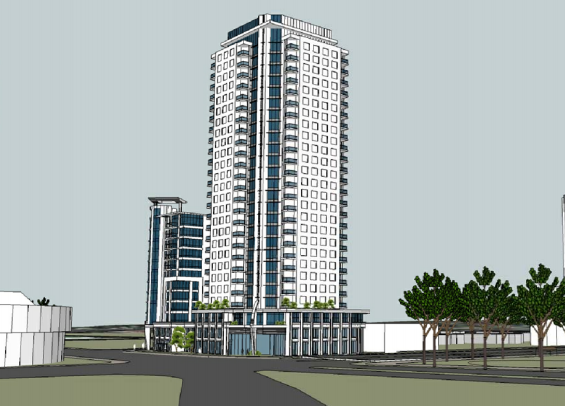 "If density is increased to the point where public amenities are negatively impacted and buildings are less livable due to limited setbacks, privacy or access to light, it could result in a situation where the desirability of living in these urban areas is somewhat limited and population growth stagnates," the staff report notes.
"There will be lots of development happening in that community," Watts says. "We're not losing on the density ability there. It's understanding beyond the partial site, what is good planning?"
One change APL did see fit to make was adding six more storeys onto their proposed tower.
"Knowing development the way we do, we just saw that it was a better fit," Millier explains.
The Robie Street proposal by Westwood Developments had its own set of issues, including the looming shadow it will cast over the Halifax Common. Staff notes it "covers the entire softball infield at peak game hours" as well as blacks-out parts of the Oval throughout the winter months. That's inconvenient, sure, but also could turn the southwest corner into a swamp as that section of the Common has the lowest elevation, making it the most susceptible to water saturation and needing the longest time to dry out. Wesstwood's resubmitted, slimmer building potentially will alleviate that problem.
An open house to gauge public feedback on both proposed developments will be held October 1 at the Halifax Forum.