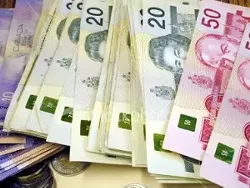 A booming real estate market is translating into a city budget that's an easy sell politically. In other words, more big-ticket public spending without raising taxes.
City staff Tuesday put forward a proposed $758 million operating budget and $145 million capital budget, with no increases in the general tax rate but big expenditure increases for the Common skating oval, the Bridge Terminal and other transit expansion, a substantial increase in the library budget and some funds for the proposed convention centre.
The gravy comes thanks to a nearly seven percent increase in property tax receipts, increasing this year's projected revenues about $12.5 million in both residential and property taxes over this past year. All other city income streams are about flat.
So while the property tax rate hasn't changed, thanks to increased assessments, the tax dollars paid by property owners will increase. The average tax on the average house in HRM will increase about $82 over last year's tax bill. Any one parcel, however, will have more or less of an increase, depending on house value and whether it is covered by the 2.9 percent assessment cap---the cap doesn't apply to properties that have been sold or significantly remodelled.
City council has over the past few years adopted reasonably aggressive debt and capital policies, and those continue to be reflected in the proposed budget. Another $5 million will be applied to the city's debt, bringing it to $275.3 million, down from the out-of-control heights of $347 million back in 1999. The "operating from capital" figure---that is, the amount not borrowed for new projects---likewise has been bumped up about $5 million, to $40.4 million.
Still, there are big increases in some operating expenses, most notably in the politically sacrosanct police budget, which increases 5.6 percent, or $4.3 million, despite plummeting crime rates. The library budget goes up 8.8 perecent, or $1.8 million; about a third of that is related to the new Central Library, now starting construction.
Council will debate, and possibly change the details of, the proposed budget next week, with a final adoption date of May 9. Likely, no major changes will occur.
While the budget situation is relatively stable, and the budget reflects "good news" financially, no one much asks: What happens if the local real estate market collapses?
Also, the operating budget is premised on an international price of oil at $95/ barrel, which translates into various prices for city expenses for heating oil and fuel for buses, trucks and other city vehicles. Today, oil is trading at $108/barrel.
I'll have more on the budget in coming days as I read through the document details.