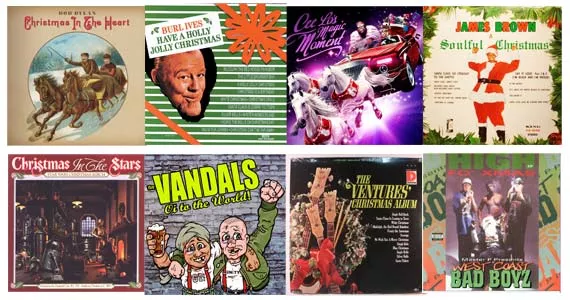 Sleigh-fulls of Christmas albums have been released since the capitalization of the holiday in the 1950s, which has resulted in some truly terrible records. Like in 2012, Scientologist John Travolta and Olivia Newton-John put out a creepy X-mas cringe-fest, and this year, Hootie (Darius Rucker) came Home for The Holidays with pure country Christmas crap. It doesn't matter what genre, everyone wants a piece of the Christmas pudding, so the list of unlistenable holiday albums is miles long. Instead, here are a few really good ones.
---
The Ventures
Christmas Album (1965)
One of the most popular instrumental groups of all time put out this surf-inspired record that's so great, you'll forget you're listening to Christmas songs. Between creative digressions from classic carols, flanging flourishes and rock interludes, it's more like a Hawaiian luau on the set of a Tarantino film.
---
Burl Ives
Have a Holly Jolly Christmas (1965)
This is one of many Christmas albums by American actor and folk-singer blacklisted in Hollywood in the 1950s for Communist affiliations. I mean, he looked like Lenin, but he sounded like Christmas. A true classic.
---
The Vandals
Oi To The World (1996)
Most of this pop-punk CD is unbearably stupid (i.e. "Christmas Time for My Penis") but "Oi to the World" transcended the season and is still on The Vandals' setlist for live shows. "Hang Myself from the Tree" you can skip.
---
James Brown
A Soulful Christmas (1968)
Brown made three Christmas albums in this era (later put out as the Funky Christmas compilation) but A Soulful Christmas is my favourite. The title track is a soul jam with Christmas-themed lyrics that sounds nothing like a carol. Then side B opens with "Say It Loud, I'm Black and I'm Proud," which became an anthem for the Black Panthers and one of the most political songs in American pop-music history. It was an important message to end a devastating year.
---
West Coast Bad Boyz
High Fo Xmas (1994)
Master P's No Limit Records crafted this tape comp with street back-beats and truesays for the holidays. On "Christmas in the Ghetto," featuring C-Murder, we hear "Holidays in the hood ain't no motherfucking joke / When people all around you is starving and broke," a reminder that not everyone has a "White Christmas." This far surpasses the Death Row Records comp from two years later.
---
Star Wars
Christmas in the Stars (1980)
Released after The Empire Strikes Back, this would be wholly stupid and hard to endure if not for C3PO (Anthony Daniels) singing tales of enslaved droids working for Santa. The bleeps and bloops of R2D2 and some cute jokes turn this limited-release cheese-plate into an entertaining Christmas miracle.
---
Bob Dylan
Christmas in the Heart (2009)
In the tradition of Jewish people making the best Christmas albums (see: Neil Diamond, Barbara Streisand), Dylan's bizarre polka-infused take on Christmas songs actually gives some of these workhorses new spirit. The contrast between upbeat carols and Dylan's sarcastic tone is pretty humourous.