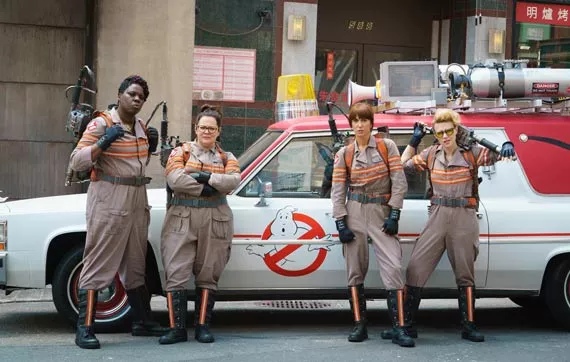 Ghostbusters opens Thursday, July 14 with limited screenings. For Movie Times see page 27.
In 1984, before the internet was invented or most of the people who scream on it were born, there was a movie about nerds eradicating ghouls in New York City, full of Dan Aykroyd and barely concealed gay panic, as was the style of the time. It was about men fighting ghosts. In it Sigourney Weaver, one of two characters with boobs and a name, became possessed by a sex ghost. A dog ghost chased Rick Moranis. Later a giant ghost made of marshmallow exploded all over the place. To recap: It's a movie about men fighting ghosts.
Ghostbusters has been retrofitted into a paragon of comedy by the angriest corner of the internet, the one where movies are so powerful they can go back in time to ruin childhoods instead of stopping 9/11 or global warming.Ghostbusters is—actually— a just-OK comedy featuring a wacky sidekick named "Slimer" that's remembered like the first season of Saturday Night Live, which is to say historically inaccurately as hilarious.
On October 8, 2014, the director Paul Feig tweeted: "It's official. I'm making a new Ghostbusters and writing it with @katiedippold & yes, it will star hilarious women. That's who I'm gonna call."
Feig's cast: His muse, Melissa McCarthy, and her Bridesmaids co-star Kristen Wiig. From Saturday Night Live, he plucked the unstoppable Kate McKinnon and the lesser-known Leslie Jones, whose blistering "Weekend Update" bits had been hitting hard. Katie Dippold, a writer on Parks and Recreation, had scripted Feig's huge 2013 comedy The Heat, with McCarthy and Sandra Bullock. From a talent side: Great team. From a box office analysis standpoint: Wise investment.
But wait: This was originally a movie about men fighting ghosts. Girls can't play ball fight ghosts! What is this, a fictional story about fake people battling computer goblins?
That corner of the internet, where DVDs eat all your joyful memories, exploded and wailed, decrying this new version as disrespectful and disgraceful, probably! Women waited for the advance tickets to go on sale.
Then something happened that's even worse than a Netflix stream that goes in through your genitals and pulls out your first eight birthday parties: One year after Feig's announcement, an all-female version of Ocean's Eleven, starring Bullock, was greenlit.
The 2001 Ocean's Eleven was itself a remake of a movie from 1960 starring assorted drunks and wife-beaters, as was the style of the time. The new Ocean's Eleven had Brad Pitt, George Clooney, Matt Damon and other last-of-the-real-movie-star types, with poor Julia Roberts in the Angie Dickinson part. Both versions are fluffy heist movies no one except Soderbergh obsessives cares about, so that corner of the internet didn't freak out (either time).
This seemingly innocuous development is entirely more troubling than any loosely organized group of young doofuses furiously downvoting trailers on YouTube, because let's face it—if Snakes on a Plane and the Veronica Mars movie taught us anything, it's that internet frenzies do not translate to real life.
However: Hollywood now makes the bulk of its money on old properties. Star Wars, Jurassic Park, Mad Max, Peanuts, Bond, Mission: Impossible, Cinderella, The Fast and the Furious—these were the big hits of 2015. Most of those have new installments coming this year or next, as does Spider-Man, on its third try, to say nothing of the Avenger Recycling Depot. This is a business that spends one night giving out merit-based awards to little-seen films and performances it deems groundbreaking and innovative, then the other 364 days hurling money at old ideas (and not particularly well-made ones).
This is also a business that has historically undervalued women, from talent above and below the line, to the ones making up fully half of the audience. Therefore each runaway woman-led success—Thelma & Louise, The Hunger Games, My Big Fat Greek Wedding, Pretty Woman, The Silence of the Lambs, every McCarthy-Feig collaboration from Bridesmaids to Spy—is considered a fluke. When that actor or director or team's next film doesn't capture lightning again, those women are immediately cast off as failures. Women can't carry action films or lead comedies or not have a man to balance them out, ever again. Until the next "fluke."
So what's going to happen with Ghostbusters this week, and Ocean's Eleven and Lady Bond and all the war movies eventually, is this: Despite that tiny corner of the internet, it'll be a hit, because demand and curiosity are equally high. (Thanks for help, boys!) And the Hollywood people are not going to think, "Maybe what people want is four terrific actors doing something funny together, and who cares if there are any men there." They're going to think, "What other movies can we remake by changing the pronouns?"
This is not progress. This is not creating better parts for women. It's a lazy practice—all sequels are, even the good ones—and hacky and gimmicky. And worse, when you can dismiss watching the film as curiosity or irony or petty rage, it doesn't allow the success to stand on its own. These four talented performers, their lady screenwriter and their feminist director look great on paper, but it didn't need to say "Ghosbusters reboot" at the top for that combination to thrive.
Early reviews are mixed; like its predecessor, Ghostbusters is likely a just-OK comedy that someday could be retrofitted as a paragon of rebellious comedy. For now, it's a movie about people fighting ghosts.