Super El Diamante is the corner store closest to Condominios Mana. It's actually much bigger than a Canadian corner store, but that's what it is to me; the big grocery stores are in the center of town. Evening walks to the store, just three or four minutes, show the most beautiful skies I see here in Alajuela. El Diamante is run by (and this is what my terrible spanish and Xiao's fractured english have led me to understand) Chen Xiao and his cousin Cero; Xiao came here six years ago. Xiao is 21 and Cero is 18. Xiao's father is in the nearby town of Heredia, I think, running another store. His mother is in China. Xiao and Cero live in the store, up on a mezzanine.
Super El Diamante es la tienda de la esquina más cercana a Condominios Mana. En realidad es mucho más grande que una tienda de la esquina de Canadá, pero eso es lo que es para mí; las tiendas de comestibles grandes están en el centro de la ciudad. Caminatas nocturnas a la tienda, sólo tres o cuatro minutos, muestra los más hermosos cielos que veo aquí en Alajuela. El Diamante está a cargo de (y esto es lo que mi español terrible y fractura de Inglés de Xiao me han llevado a entender), Chen Xiao y su primo Cero; Xiao vino aquí hace seis años. Xiao tiene 21 años y Cero es de 18. Padre de Xiao se encuentra en la cercana ciudad de Heredia, creo, la ejecución de otro almacén. Su madre se encuentra en China. Xiao y Cero en vivo en la tienda, hasta en un entresuelo.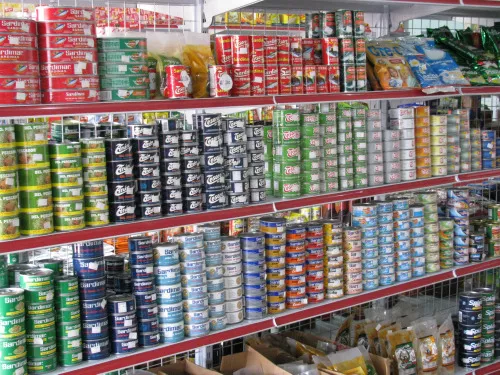 El Diamante is cleaner than most corner stores. It stocks
a lot
of canned tuna. All stores do, and it's not just tuna in oil or tuna in water. It's tuna with vegetables, tuna with corn, tuna with jalapeños, tuna in tomato sauce... It goes on and on. And there's no 99 cent tuna here. It's more expensive than that.
El Diamante es más limpio que la mayoría de tiendas de esquina. Se poblaciones un lote de conservas de atún. Todas las tiendas de hacer, y no se trata sólo de atún en aceite o atún en agua. Es de atún con verduras, atún con maíz, atún con jalapeños, atún en salsa de tomate ... Se sigue y sigue. Y no hay atún de 99 centavos, aquí. Es más caro que eso.


Xiao's spanish name is Daniel but I've never used it. It seems more fun and more personal, closer to the truth, to use Xiao. I have not been able to understand why these guys and in particular Xiao are doing this and not going to school. I asked Xiao a couple of times and I think he said there was no other option for him. I just don't get the feeling that Xiao is settled in this line of work. I have the feeling he would like to be doing something else, and doing it somewhere else. I don't know for sure. I don't know where in China he came from—a huge city or small town. He speaks Cantonese, so I suppose somewhere more south than north. Does he dream of another life? Why did his family come here? What does he miss? Why is his mother in China? Of all the people I have met here it is Xiao I most wish I could know better. I regret my lack of spanish most when wondering if good spanish would have let me know him better.
Nombre español de Xiao es Daniel, pero nunca lo he usado. Parece más divertido y más personal, más cercano a la verdad, para usar Xiao. No he podido entender por qué estos chicos y, en particular, Xiao están haciendo esto y no ir a la escuela. Le pregunté a Xiao un par de veces y creo que él dijo que no había otra opción para él. Simplemente no me da la impresión de que Xiao se haya integrado en esta línea de trabajo. Tengo la sensación de que le gustaría estar haciendo otra cosa, y hacerlo en otro lugar. No sé a ciencia cierta. No sé si en China venía de una ciudad grande o pequeña ciudad. Habla cantonés, así que supongo que en algún lugar más al sur que al norte. ¿Acaso el sueño de otra vida? ¿Por qué su familia venir aquí? ¿Qué es lo menos? ¿Por qué su madre en China? De todas las personas que he conocido aquí es Xiao que más me gustaría poder conocerlo mejor. Lamento mi falta de la mayoría de los españoles, cuando preguntaba si bien español me hubiera dejado conocerlo mejor.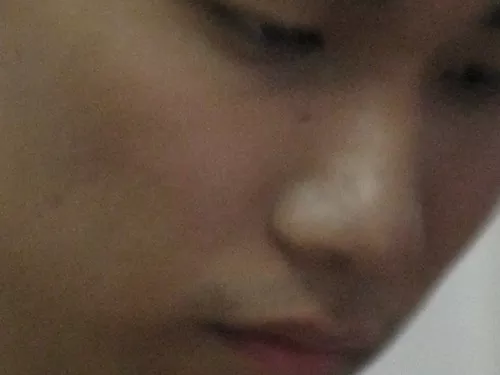 Cero gets sulky sometimes, and once I saw him asleep on the job. It's hard to blame him since the store is open 15 hours a day, every day, including Easter. I can't think that this is what Cero dreamed of doing either. Some corner stores here are barred night and day—you do your business for chewing gum at noon or Coca Light after dark through some small teller's cage opening. El Diamante is open during the day, but at 8 o'clock a big gate like the bars of a giant cell comes across the front and for the last hour you do your business through a hatch. I wonder if the evenings are stressful for Xiao and Cero.
Cero se sulky a veces, y una vez que lo vi dormido en el trabajo. Es difícil culparlo ya que la tienda está abierta 15 horas al día, todos los días, incluyendo Semana Santa. No se me ocurre que esto es lo Cero soñado hacer bien. Algunas tiendas de la esquina que aquí se les prohíbe la noche y el día - lo hace su empresa para la goma de mascar al mediodía o después de Coca Luz oscura a través de la apertura de algunos cajeros jaula pequeña. El Diamante está abierto durante el día, pero a las 8 una puerta grande como los barrotes de una célula gigante se encuentra con la cabeza y para la última hora a hacer su negocio a través de una escotilla. Me pregunto si las noches son estresantes para Xiao y Cero.
There is a small cast of characters that hangs out at El Diamante. An older guy sits in a white plastic lawn chair just inside the door and he and Xiao seem to talk politics. He and I say genial hellos and I was especially proud when I figured out that adios is used locally for hello instead of good bye, and I began using it on him.
Hay un pequeño reparto de personajes que se cuelga en El Diamante. Un hombre mayor se sienta en una silla de plástico blanco junto a la puerta y él y Xiao parecen hablar de política. Él y yo digo saludos genial y yo estaba especialmente orgulloso cuando me di cuenta de que adiós se utiliza localmente para saludar en vez de adiós, y empecé a usar en él.
And often a man named Panchico is outside the store, across the small side street on a slab of concrete slab. He sleeps there. Xiao says Panchico has lost everything because of alcohol. When I am at the store, if Panchico is there on the slab, I get him some kind of snack, and since I don't know how to say Happy Birthday, I say Feliz Navidad. He talks to me, but his teeth are gone and I can't understand. Except tonight. I gave him a snack and asked to take his picture. And when I said good night, I got it clear as a bell: he said, "Go with God."
Y a menudo un hombre llamado Panchico está fuera de la tienda, a través de la pequeña calle lateral en una losa de hormigón de la losa. Duerme allí. Xiao dice Panchico lo ha perdido todo por culpa del alcohol. Cuando estoy en la tienda, si Panchico hay en la losa, le obtener algún tipo de refrigerio, y como yo no sé cómo decir ¡Feliz cumpleaños, digo Feliz Navidad. Me habla, pero sus dientes se han ido y no puedo entender. Salvo esta noche. Le di un bocado y le pidió tomarle una foto. Y cuando me dio las buenas noches, lo tengo claro como una campana: dijo: "Vaja con Dios".
Panchico in the dusk, April 23, 2010