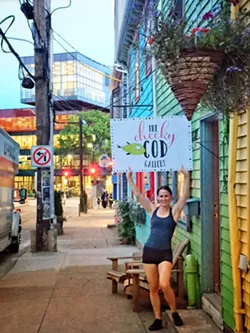 When local artist
Kelly Burgess
decided she needed a solid spot to sell her work in Halifax, she pulled up her socks and made it happen. After calling up artists she'd met over the years at farmers' markets, craft fairs and exhibits,
The Cheeky Cod Gallery
(1528 Queen Street) opened on the brightest block downtown—Vintage Row—earlier in the month, shining a light on single makers (the folks going it alone who might not have the ability to wholesale their work).
"It's grown into this collection of work in the shop that has this great energy, and people come in and see that," says Burgess. "I tell everyone who the artist is, what their story is. My goal is to really connect people with the artist." The Cheeky Cod features work like pottery, ironwork, leatherwork, felting, woodworking, rug hooking and jewellery. Burgess hopes to offer pop-ups and classes in the gallery's upstairs space soon.