Having visited the set of
Michael Melski
's dark drama
Charlie Zone
in April, I was eager to catch up with the completed film, which Melski pulled together just in time for the festival. In conversations with the director, he described the movie as a portrayal of the dark side of Halifax---the drug dens, the violence, the racism and the poverty that the privileged among us are able to ignore. When I ran into Melski last Thursday, hours after he put the finishing post-production touches on the film, he declared that, whatever the audience thought of it, "I made the movie I wanted to make." So far audiences think very highly of
Charlie Zone
. Last night was its second sold-out showing, and Melski, in introducing the film beforehand, happily reported that it was the top movie in terms of audience ratings at the festival so far. He also promised the crowd that we "wouldn't be bored."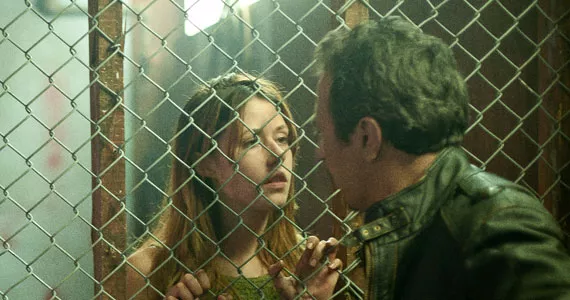 Indeed.
Charlie Zone
is many things---some good, some great and some not so great---but boring is not one of them. It's the story of a native Canadian boxer (Glen Gould) who's been reduced to street-fighting for YouTube videos, and a young heroin addict (Amanda Crew) whose life is being snuffed out hit by hit. The former is hired to kidnap the latter and ostensibly save her from her down-and-out existence, but things turn out not to be quite so straightforward. Melski, as he promised, doesn't spare the viewer in his graphic depiction of violence and drug use. This approach, combined with the grainy film quality, gives the film a gritty, grimy feel that makes watching it a visceral experience.
Charlie Zone
leaves a scummy residue, and I mean that in a complimentary way. Gould and Crew are also fantastic, he providing the film's sad soul and her its flickers of passion and light. They've clearly taken the time to get inside their characters and their commitment is evident in every scene.
The movie's not perfect by any stretch. For one thing, not all the performances match Gould's and Crew's (in particular, a pair of drug kingpins chasing after Crew's character are about as threatening as Smurfs). And some of the twists and turns of the story don't flow as naturally as they should. I know Melski wanted to comment on the role of the privileged class in Halifax's underground struggles, but I'm not sure his point resonates as strongly as he'd like. In all, though, I can see why Melski's confident that he made the film he intended to.
Charlie Zone
is, like its characters and the places Melski wants to shine a light, a rough, ragged, spirited ride that delves into dark and touchy subject matter. It's well-paced and full of genuine surprises, and powered in part by a great (if slightly overused) score by
John W.D. Mullane
. And it's never boring.