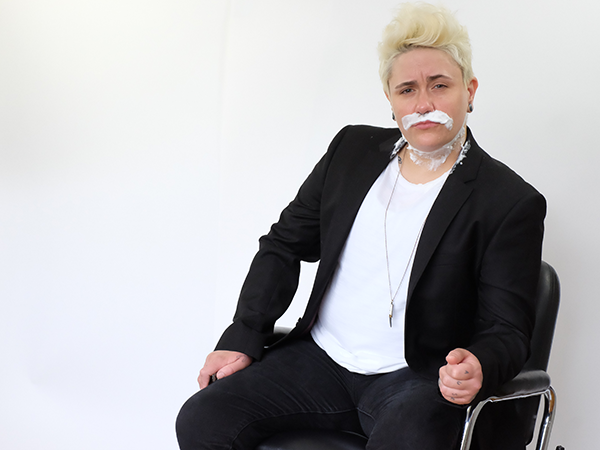 Chanty Marostica at Ha!ifax Comedy Fest
LGBTQLMFAO w/Hal Sparks, Kyle Brownrigg, Andrew Johnston and more Friday, April 26, 8pm
Casino Nova Scotia, 1983 Upper Water Street
$30
---
The Nasty Show w/Drew Behm, Adam Delorey, Sophie Buddle and more Saturday, April 27, 8pm
Casino Nova Scotia, 1983 Upper Water Street
$35
---
Blending impressions with physical comedy, turning social commentary into storytelling and spinning stories into laughter, Chanty Marostica is paving the way for queer comedy, picking up more than a few awards along the road.
The first out trans person to win a Canadian Comedy Award, to be named Sirius XM's Top Comic and to be nominated for the 2019 Comedy Album of the Year, Marostica is first and foremost a comic.
"Being able to make everyone in a room laugh, and unite people in that way...and still talking about things that make you think and make you feel like you left a bit more educated than when you came in," says Marostica, who will make two appearances at this weekend's Ha!ifax ComedyFest.
With more than 13 years in the comedy biz and multiple counts of unsolicited advice from counterparts to spend less time on stage talking about being queer, Marostica was inspired to do the complete opposite.
Originally from Winnipeg, they are the proud creator and producer of Church Street Comedy, now Toronto's longest-running show featuring an all queer, all the time lineup of comics, as well as Queer and Present Danger, a touring LGBTQ+ showcase, evidence that shows don't have to max out at one token queer performer.
"I wanted the younger queer comics who were just coming out to have a better start than I did," says Marostica, "now there is a whole queer comedy community because of what I started."
Always starting new projects, Marostica has recently begun a series of ongoing queer open mic nights. And on the very rare occasion when they they want someone else to make them laugh, their favourite never-fail go-tos are Tiffany Haddish, Kristen Schaal and Melissa McCarthy.