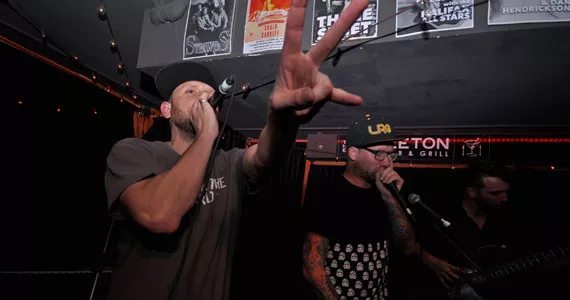 Three Sheet w/Know Issue
Friday, December 9, 10pm
The Carleton, 1685 Argyle Street
$10

After nearly a decade as a band, alternative hip-hop troupe Three Sheet is taking stock of where it's at. Three Sheet's tenure has included a huge number of shows in Halifax, a handful of tours, even a visit to Taiwan—something that emcee Matt "Expedyte" Kliffer describes as "one of the best and most memorable experiences we've had."
Kliffer, along with Eric McIntyre, Vanessa Furlong, Kevin Tilley and Ryan O'Quinn, has been playing regularly around town since 2009. The group added DJ Uncle Fester (AKA Shaun Ryan) this year. The band quickly built a name for itself around town for its tireless live show, but has taken some time to match that performative energy on record.
"We just released our third album, and I think our biggest challenge was just working on our recording game," says Kliffer. "We kind of incubated ourselves in a live show by playing so much, so often for so many years that we didn't really get good at recording."
Kliffer adds that the band's most recent album—Heart to Make It Perfect, released in June—displays a significant step forward in the group's recorded work. "As far as I'm concerned, the presence of this album has way more body than our first two albums," he says. "With our live show, we played so much so often that there wasn't much room to add stuff. The real change and real growth in the band has been in our recorded material."
Still, next year marks what Kliffer calls "10 long years" for the band; as members grow older and take on new projects, he says Three Sheet will officially wind down in 2017.
"We've put everything that we have into this project, we've given it all that we can," he says. "We're all going to remain musicians and remain doing what we love to do. But as we grow older, there are other things in life that are going to require our attention.
"We're going to give this album its full run," he says. "We're looking at having a final tour next year and then we'll be putting the project to bed after that. Let's not have one person leave or have to replace anybody—let's give this album one year and say goodbye as the original members."