On the lawn by the BP station in Cedar River, Michigan (note rectangular poo)
It was a bit of aslog to get to Cedar River and the gas station with diet Coke and a stale tuna sandwich and this WIFI. It is hot, hot. This morning I was sweating by 7:30. The road, Route 35, is a little too busy for my taste, lots of tourists with big trailers or RVs, and lots of big rigs hauling logs or oil. The shoulder of the road is a little too narrow and most of yesterday and today I would swerve off when traffic approached, from the paved shoulder onto gravel. The gravel is a little to big to be comfortable to walk on, so near the end of my slog here I stopped moving to the gravel and just stayed on the shoulder.
I have been hanging out at this station because I need to take a break now in the afternoons—it is too hot to walk through it; this morning (I got here at about 1:30 and it's 3:19 now) I started to get headachy from being so hot. So I plan to shove off from here in about 45 minutes, and head north toward Escanaba, which is 28 miles (45 kms) away so I might get there late tomorrow or I might not.
I have been reading more, and doing puzzles of various kinds—taking more breaks to read and I am really enjoying the evenings when the tent is up and I can do homework, which is what my sister Sue and I call doing puzzles. Last night I set up on a lawn overlooking Lake Michigan. It was a great view of clouds and water.
Fort Kansas last night, overlooking Lake Micigan
I think I've gone about 12 miles (19.3 kms) today, so I will do a few more in the early evening. I am almost in Eastern Standard Time; that will be another milestone. It has been of comfort and glee to be in Paddle-to-the-Sea territory. I keep telling myself: just have a day, a good day. Stay out of the rain and don't worry about how far you get. So I'll hang out here a bit more and move on north.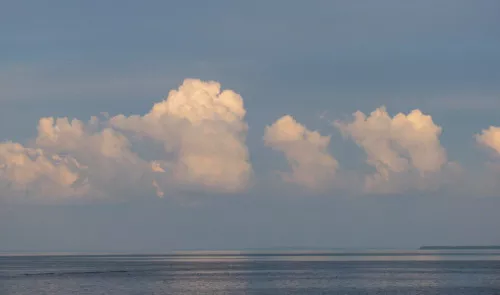 The view from Fort Kansas last evening