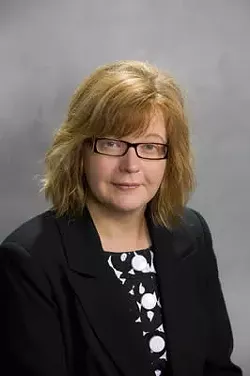 City finance director Cathie O'Toole has tendered her resignation, effective April 9.
I wrote the below blog post this afternoon, and it was sitting in the queue to go live on our website as I learned that O'Toole has quit. I just had a long conversation with O'Toole, and will write more tomorrow. All the below, and more, still stands.
The Common concert financing scandal is tainting the reputation of nearly everyone involved: mayor Peter Kelly, now-former acting CAo Wayne Anstey, Anstey's predecessor Dan English, Trade Centre Limited's Scott Ferguson and the city itself.
But one person will come away from this scandal with her reputation intact. That's Cathie O'Toole, the city's finance director.
O'Toole was hired into her present position two years ago. In that time, she has completely revamped how the finance department operates; processes are now spelled out in policy documents and budgets are clear and understandable. Among other initiatives, she has marshalled in a debt policy and a capital replacement policy that have brought sense and direction to financing, and firm oversight procedures spelling out exactly how new programs and expenditures are to be implemented. From a fiscal management perspective, the city has better control over its financial situation than at any time since amalgamation.
As an example of O'Toole's sensibilities, some months ago she told me that she thought the city should make its expenditures completely available to public inspection, just as the province does through Public Accounts. Were council to embark on such a policy, the city would go a long way to improving public trust.
As for the present scandal, O'Toole did exactly what she was supposed to do. My understanding is events played out like this: Anstey showed up sheepishly in O'Toole's office with an invoice from Trade Centre Limited for $359,550, and explained what had happened. O'Toole then 1) immediately castigated Anstey, 2) next, called city attorney Mary Ellen Donovan and alerted her to the improper loan program, 3) arranged a meeting between herself, Donovan and auditor-general Larry Munro and 4) brought the issue to council's audit committee.
I'm also told that O'Toole has been having a rough time of it in City Hall, that some bureaucrats have disparaged her for calling out the financial irregularities. Undoubtedly she must feel bad that Anstey has lost his job, but she has demonstrated that her professional reputation, and doing what's right, come before these other concerns.
It's too bad, really, that we have to praise someone for behaving like a responsible civil servant, but such is the world we live in.
The saddest thing about this scandal is that O'Toole has done much to improve the reputation of the city's financial management, only to have it sullied by a handful of petty actors advancing their own agenda by by-passing the financial controls she has implemented.
For The Coast's complete coverage of the Common concert financing scandal, click here.