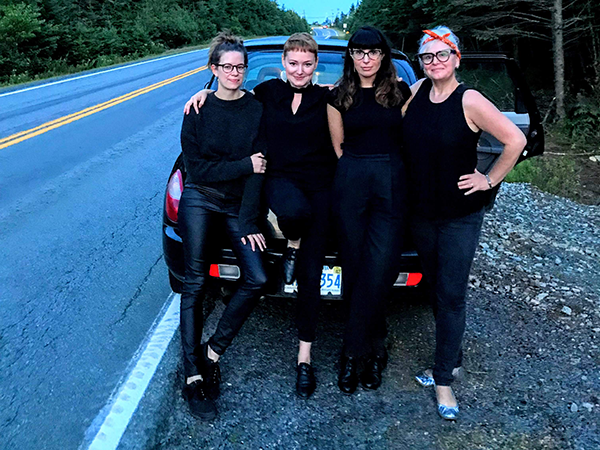 Driftwood People w/Alexandria Maillot, Cassie Josephine & The Cry If I Want To's
Fri Oct 25, 8pm
The Carleton, 1685 Argyle Street
$10
---
C assie Josephine—the eponymous leader of Cassie Josephine & The Cry If I Want To's—has a record both lovely and vulnerable in 2018's Only Half Blue. Written in the months preceding her 40th birthday, Josephine parlayed her emotions into a delicate country album, now nominated for Country Recording of the Year at 2019's Nova Scotia Music Week. While writing "Closer to You," a song about missing her parents, Josephine found herself "contemplating more on that subject—time passing, 'where am I in life?' And, oh yeah, 'I'm going to be 40 and what does this mean to me?' Forty itself is not scary, aging is a trip. For me it's about time running out before I can accomplish all that I want to."
Of her supergroup band—her sister Krista MacDonald (former front person of The Whiskey Kisses), Gianna Lauren, Anna Wedlock, Erin Costelo (who played keys on the album) and Terra Spencer—Josephine says "I feel like pinching myself every time we perform together."
And, there is something dream-like about Josephine's music—she thanks Wedlock's violin for helping the songs sound like "dark Disney dreams," but the gauzy sound originates from Josephine's gentle voice. Yet, as the songs have evolved, Josephine's been playing with amping up the volume. "I've spent a lot of time exploring the depths of my feelings and now I want to explore the reaches of my voice. It's gotten stronger over the years and often in performance another version of the quiet, lullaby songs of Only Half Blue comes out and I'm surprised and excited by it. I want to try to put that into the songs from the beginning for the next album," she says. "I also want to get myself an electric guitar and see what happens."