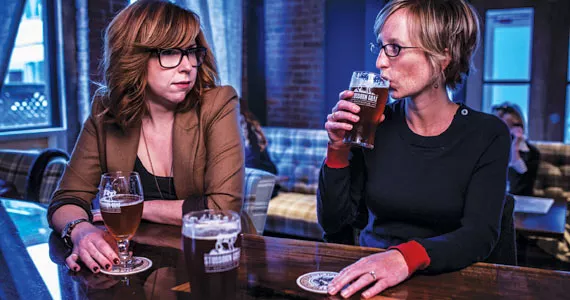 If you haven't purchased a ticket for the sold-out Ladies' Beer League Cask Beer Fest, reading this is the closest you're going to get. Open to all genders, the first annual festival of real ale is being held this Sunday, November 17, in two sessions at the Stubborn Goat Gastropub.
But first things first: what's a cask? Cask-conditioned ale, or real ale---a term coined by the Campaign for Real Ale in 1973 by some British blokes bored with over-carbonated, pasteurized draught---is, according to The Naked Pint, "left to mature in an 11-gallon cask, where it undergoes a secondary fermentation...[and] is then served to the public from the same cask." Because it is served without the CO2 pressure of kegged beer, cask ale is "preserved in its natural state."
According to LBL co-founder Tracy Phillippi, because carbonation happens naturally the beer has a more natural taste and mouthfeel---beer-geek speak for the way the liquid feels in your mouth. Compared to ale poured from a keg or bottle, Phillippi says, "It's usually smooth and really clean," which has an important benefit: "You can drink more without feeling bloated." According to LBL's Pam Crouse, the nature of cask ales has changed over the years. "It's become an art form, whereas before it was a cheap way to drink."
Many of the breweries involved will be brewing cask ale for the first time. "We're trying to help breweries develop cask beer, so we're helping them develop at the same time" as the league, explains Crouse. "It's just kind of starting here."
Only Kevin Keefe of Granite Brewery has been doing cask ales since the 1980s, and funnily enough, while cask beer has become quite popular in Toronto and Vancouver, Phillippi claims these cities "recognize Keefe as the godfather of cask ale." And so it only seems right that casks should become an integral part of the beer scene in Halifax. "It kind of has its history here." And in the spirit of curiosity, the Stubborn Goat, Halifax's newest gastropub, came to LBL with the idea for the event. "They were curious about casks and wanted to learn more about us."
Offering seven cask ales from Maritime breweries and eight tickets to each attendee, cask-festers will try each cask once, and their favourite twice. At the end of the night, a winner will be chosen from the following: a dark cream ale from Hell Bay Brewing (Liverpool); a dry-hopped IPA from Propeller; Winter Warmer from Garrison; a smoked porter from Picaroons (Fredericton); a Glenora-infused stout from Big Spruce (Cape Breton); an English brown ale from Boxing Rock (Shelburne) and a Belgian apricot IPA from Bridge Brewing.
"Because a cask is created on the spot, it's never the same," explains Phillippi. "If Garrison makes two Winter Warmers, they'll be different."
The event is already setting new standards for Halifax. The upcoming Stillwell Beer Bar will carry three permanent casks at all times. "Hopefully we'll help expose people to more---they'll appreciate and want to order it." As for what's in store this weekend, the atmosphere promises to be in keeping with the nature of cask ale. "If you watch someone tap a cask, it's celebratory," says Phillippi. "Someone always gets a beer shower. It's always different. It's always an adventure."
---
Ladies' Beer League Cask Beer Fest
Sunday, November 17
1-4pm and 5-8pm
Stubborn Goat Gastropub,
 1579 Grafton Street
$35/ SOLD OUT