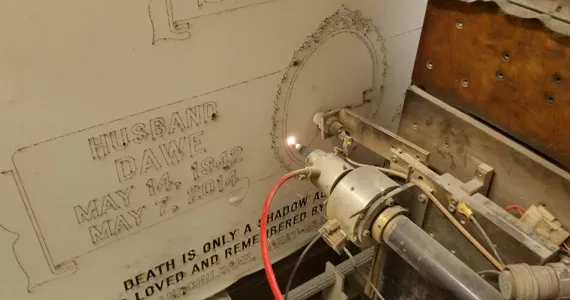 Dean Nelson's family has been cutting granite since 1909. The vice-president of Heritage Memorials in Windsor says his company now produces upwards of 3,500 headstones annually for Atlantic Canadians. Emotionally and physically, it's heavy work. Nelson spoke with The Coast about his headstone business and the mark it's made.
——— 

Where do you source your stone from?
It comes from all over the world; India, Scandinavia, Africa, Quebec, Vermont, Northern Ontario.
What's the process to make a headstone?
If you were just to put one monument through the place, it'd take about two days. Usually we get blocks of stone, and saw it up with our big diamond saw, our slab saw. Then it goes to our slab polisher, then to a diamond cutoff saw, which shapes it, then to the polisher and then to a laser that engraves the stencil.
What's the weight of an average headstone?
It'd be about, say, a 36" by 24" by 6" is 400 pounds. 
How much would that cost?
It would depend on the colour, but somewhere between $3,000 and $4,000.
How have you seen the business change?
When we do a drawing for somebody now, the same sketch they see is what the laser actually cuts. Whereas before, when I started doing it, we had plastic letters and we ran them through a press and then we had to pick those all out. A lot of designs we had to cut by hand with a stencil knife. Back when I started in the early '80s, you never saw a sketch. It was just whatever we thought it should look like is what the customer got.
So there's more interpretation now?
There's a lot more on stones now than there was before; more personalization. Before, maybe we'd put the Mason crest on or some flowers in the corners. It was pretty basic. Now, there's a lot of etching, which is done by laser or our artist does it by hand. He does a lot of portraits. He also does a lot of farm scenes, fishing scenes, wilderness scenes, whatever's specific to that person. Before, when I was lettering and cutting the stones, we put on a generic church. Now, it's their church. We draw their church, or their cabin, with their four-wheeler in it. If you go to the cemeteries, you can definitely see the difference in the stones. It's more directed to an individual. A little less religious. Now, it's more about the actual person.
Do you see trends over the years, certain styles becoming popular?
Yes, in the last 10 years in what we call a slant marker, or people call it a "pillow marker." It lays more angled and flat on the ground versus the upright. Those are not going to be able to be vandalized in the future. In the last five to 10 years, we've been putting a lot more metal pins in stones so they can't be turned over or vandalized.
There must be a certain weight to the work. Looking at the names on the stones, you're reminded that this is someone's life.
That is very important to keep track of. With anything, you get a little blase about it, but you always come across one or two that strike you—someone close to your age or birthday, or you knew them. Your name on the stone, done that a couple times. It brings it all back home that it is a person. Somebody has lost someone, and you make sure you do the best job you can because it means a lot to somebody.