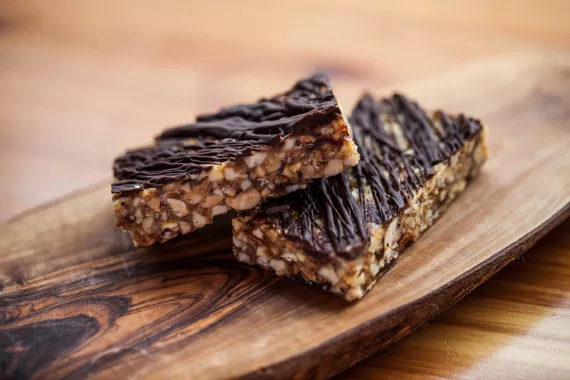 Yields one 8 x 8 inch pan
Ingredients
¾ cup hazelnuts, raw, unsalted
¾ cup cashews, raw, unsalted
1 ½ cup almonds, raw, unsalted
¼ cup almond butter
¼ cup coconut oil
3 tbsp maple syrup
¾ tsp salt
1 cup dates
2 oz vegan chocolate chips + 1 teaspoon coconut oil
---
Method
Chop all of the nuts together in a food processor until coarse sandy texture and set aside in medium sized mixing bowl. Meanwhile, soak the dates in boiling water to soften for five minutes, then discard water. Put the almond butter, coconut oil, maple syrup, salt and dates into a saucepan. Heat mixture while stirring frequently until melted and uniform consistency, then add to the nuts.
Stir until all of the nuts are coated. Line an 8 x 8 x 2 inch baking pan with parchment paper. Transfer everything to the pan and press firmly and evenly into the bottom. Melt the chocolate chips with the 1 teaspoon of coconut oil and drizzle over the top.
Refrigerate for 30 minutes or until firm. Cut into bars the size of your choice.