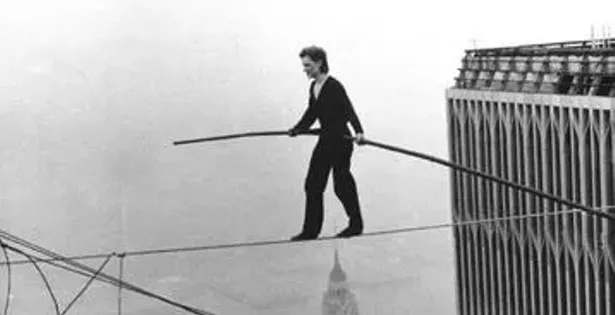 So, Rossif Sutherland is Donald-tall, not Kiefer-tall. Wouldn't have known from Poor Boy's Game, but he towered in the Park Lane hallway this afternoon when he strolled out of a juried screening. Apparently he's one of those smug bastards who's been delaying screenings for the rest of us. (Just kidding Rossif... I've seen you fight, dude. We're cool, right?)
The international copro of the day (only started 25 minutes late... woohoo!) was Stone of Destiny, apparently based on a true story of a group of University of Glasgow students in the early '50s who conspired to steal the titular rock, which sits beneath the Coronation chair, the seat the king or queen enjoys when he or she is monarched. The chair is in Westminster Abbey, in London... not easily gotten to, but back in 1950, the surveillance was hardly electronic, and these mightily earnest and nationalistic types would not be denied. Nice support from Robert Carlyle and interesting choice of the New Pornographers on the soundtrack. I always think of those guys when I think of Scotland in the '50s.
Had a good chat with Growing Op producer Rick Warden in advance of Man on Wire, and he reminded me why this film festival helps open Halifax up to the world, because it's part of a network of film festivals across the planet. It's a genuine cultural exchange. Warden was in Nairn, Scotland recently for the first edition of Tilda Swinton's film festival, "The Ballerina Ballroom Cinema of Dreams." She and friend Mark Cousins programmed a 8 1/2 day festival full of their personal favourite films, from Japanese classics to Singing In The Rain, all in a gorgeous and lushly appointed ballroom. Warden said he staked out a regular seat up front, which were all beanbag chairs. Swinton introduced every single film, and would often do so by playing a song (apparently Marilyn Manson was a popular choice) and doing a dance in front of the assembled audience. Warden said Swinton was very charming, and at some point in during the festival, the organizers found out it was Warden's birthday, so they got the punters to all sing "Happy Birthday" to him.
I wanna go next year.
Scored by a combination of Michael Nyman's The Cook, The Thief, His Wife & Her Loversoundtrack and Eric Satie, Man On Wire is utterly hypnotizing. Paced like a caper film, it visits with the daredevil Frenchman who in 1974, with the assistance of a team of accomplices, strung a wire between the Twin Towers in Manhattan and strolled across. I remembered the fact of it, but knew nothing of how it was done. Now that Ive seen the film, the enormity of it... there's a poetry to doing something with grace that no one in their right mind would do. I love the interview with the cop who went up there to try and bring the wire-walker down... he knew he was seeing something that was "once in a lifetime." I hope this gets a local release in theatres... the vertigo induced by those towers is really something on the big screen.
I read Fear & Loathing In Las Vegas when I was a teenager. That was in the '80s, when anything that was new in the culture was shit and anything that was cool was from the '60s. Hunter S. Thompson was chronicling how the optimism of the '60s turned into cynicism, what I understood to be the conspicuous consumption and hideous peach and black ensembles of the day. I totally got that. Thing about Thompson's writing that I loved was the honesty, and how inspiring he was. Not just in the depiction of the drug-taking fast lane, but how he seemed to be pushing the envelope of creativity... the rebel stand appealled to my 17-year-old brain. He was a hero, perhaps mad, but it seemed the only sane reaction to redneck values. (Still, he adored his guns... I never quite got that.)
Most of all, I loved that Thompson was so fucking afraid. I could relate to that. He communicated an unbelievable anxiety, the horror he was seeing, that sheer, untethered understanding he allowed himself. Yet, somehow, through the drugs (did they ease the paranoia, or worsen it?) he powered through the bad craziness, he put on a brave face, fought the hypocrisy with insane behavior. It never got too weird for him, he claimed. Well, at least not until the very end.
Gonzo:The Life and Work of Dr. Hunter S. Thompson is a fine epitaph, collecting footage from a lot of the docs that have already dug into his life, such as Breakfast With Hunter. Most interesting is how his work impacted Washington, and how he was affected by politicians such as George McGovern and Jimmy Carter. The film also doesn't soft-pedal his anger, nor how he was trapped by fame later in life, both embracing and reviling the cartoon of his image.
As Jimmy Buffet (!?) says in the picture, we miss him. It would have been nice to hear what he might have made of this bizarre American election cycle. And as Gonzo points out, the rhetoric and circumstances of 1972 strangely correlate with the current crap spewing from our television screens.