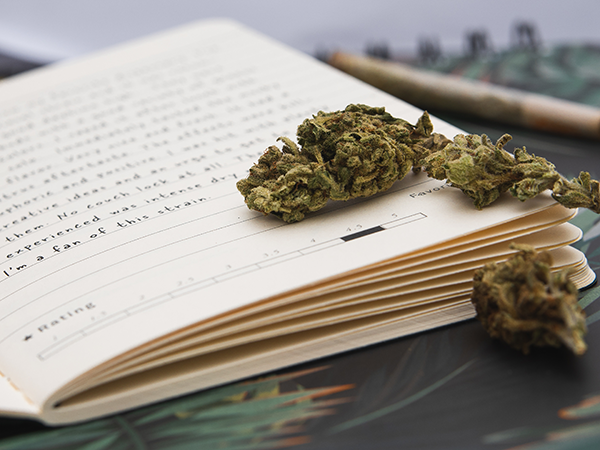 Durga Mata 2
Producer: Namaste
Price: $9.99 for one-gram pack

Ebb & Flow
Producer: Reef
Price: $48.99 for 3.5-gram pack
($13.99/gram)
Sweet Tartan
Producer: Highland Grow Inc.
Price: $25.18 for pack of three pre-rolled joints ($16.79/gram)
---
From chief cannabis researchers in Berkley's analytical labs, to a study from Dalhousie Agriculture on strain genetics, more and more experts are claiming the labels "indica" and "sativa" are obsolete—at least when describing their effects once consumed.
The terms date back to the 1700s: Sativa is latin for "cultivated" and indica means "of India." A 2015 study out of Dal, led by university research chair Sean Myles, looked at 81 different cannabis types and only found a "moderate correlation" between genetic structures with the same indica or sativa labelling: "The inaccuracy of reported ancestry likely stems from the predominantly clandestine nature of cannabis growing and breeding over the past century."
Translation: Criminalization and prohibition have kept scientists in the dark, and decades of human interference have rendered nearly all strains hybrids. "Marijuana types lack an organized horticultural registration system," reports the study. "C. sativa and C. indica ancestries only partially capture marijuana's genetic structure."
As for their alleged effects—uplifting sativa and knock-out indica—Myles says, "there's no evidence that strains actually have those effects beyond what they're saying from behind the counter."
This was all on my mind while reviewing Relax strains. Relax is where the NSLC stashes the cannabis inventory that's labelled indica-dominant, on its indica-to-sativa spectrum of Relax, Unwind, Centre and Enhance. Worried that this round of Professional Journalism would couch-lock my evenings and create stoned-over headaches the next day, I was propelled to find strains that defied my outdated expectations that all indicas pack the same sedating punch.
As for their alleged effects—uplifting sativa and knock-out indica—"there's no evidence that strains actually have those effects beyond what they're saying from behind the counter."

tweet this
Durga Mata 2 by Namaste is a 2:1 CBD-forward strain that was quite uplifting (tbh, I didn't even realize I was smoking a Relax strain when first consuming). Namaste is owned by Zenabis, a cross-country LP with facilities in BC, New Brunswick and Stellarton. Zenabis was started by "two immigrant fathers" working in commercial agriculture, who partnered with their sons to sweep the cannabis market. Namaste is one of two recreational brands under the company, whose blog has also questioned the usefulness of indica/sativa terminology.
Smoking Durga joints did not negatively affect my mental clarity—CBD is known to smooth the edges of THC's mind buzz—while providing indica's signature "body high." The CBD was hard at work alleviating menstrual cramps to a dull roar, thus boosting my focus and mood. My partner, a part-time consumer who won't touch a sativa, fell in love instantly from Durga's unique herbal scent and dark, sagey taste. "Clear, not cloudy, no anxiety," were his words, a relief for someone with a low tolerance and who's had adverse anxiety reactions to pot in the past.
Professionals suggest focusing on the presence and percentage of cannabinoids (like THC and CBD) and terpenes when curating your experience. Along with its CBD lineage, Durga Mata 2 has high amounts of myrcene, a terpene found in mangoes, lemongrass and thyme. Myrcene may be one of professor Myles' "moderate correlations," as it's commonly found in indica strains. It's linked to the "couch-lock" sensation, and also promotes the body's ability to absorb cannabinoids—hence the old stoner's tale that eating mangoes will elevate your high.
Durga also contains limonene, an energy-enhancing terp found in citrus and juniper whose uplifting qualities blend well with the heavier myrcene hit. If you're shopping the Relax category, but don't want to be flattened, grabbing a high-percentage limonene strain could keep you awake. (This shouldn't be difficult, as limonene repels insects from plants in nature, making it a very common find.) Plus, a 2012 study found limonene capable of relieving anxiety, while its antifungal properties can alleviate tummy troubles.
Speaking of—my next Relax strain was chosen while looking for a major CBD boost after a nasty 48-hour flu. An enthusiastic employee on Portland Street recommended Ebb & Flow from Reef, another limonene-forward indica that matched Durga Mata's 2:1 CBD ratio.
Reef cannabis products are produced by Aqualitas, housed in a former pulp mill on Nova Scotia's south shore. Although Aqualitas is not the first LP to grow organically in Canada, it is the first to be certified by Clean Green, a cannabis-specific certification out of California that processor/handlers must meet international organic and sustainable cultivation standards to qualify for. Boasting a "commitment to regulatory compliance, quality and environmental stewardship," Aqualitas has developed a "synthetic, pesticide-free aquaponic system" where cannabis plants share their space with schools of koi fish, whose excrement provides the plants with nourishment, making Reef's carbon footprint lower than more traditional facilities.
While the flowers growing in its aquaponic system aren't on the market quite yet, Reef's current offerings at the NSLC are grown organically in all-natural living soil, its microorganisms naturally providing the plants with nourishment. Reef does not use irradiation, a commonly used process that kills plant contaminants by exposing the bud to non-radioactive gamma rays. Reef products are grown using methods that ensure they meet health and safety standards without the need for irradiation, as this practice is known to diminish terpene levels, which can make for a less flavourful—and powerful—crop. Furthermore, Aqualitas—one of the industry's few companies founded, led by and employing a majority of women in scientific roles—is actively engaged in sustainable growing practices, researching and working alongside Sindica, the Global Institute for Cannabis Research and Innovation.
Worried this round of Professional Journalism would couch-lock my evenings and create stoned-over headaches, I was propelled to find strains that defied my outdated expectations that all indicas pack the same sedating punch.

tweet this
My partner described Ebb & Flow as "mustardy"—a savoury, oceanic aroma with a tangier citrus taste. I micro-dosed before facilitating a group project because yes, I would rather be slightly stoned on the job than queasy, in pain and underfed. My brain seemed to dull immediately and 10 minutes after smoking I was moving at half-speed. Yet, for the first time in days, I felt my appetite return and overworked stomach muscles settle. I could eat and breathe a little better. As the group's task-master, the Ebb & Flow dose made me more than capable of delegating and leading our project as the "dull brain" feeling helped me slow down and communicate in a more focused and deliberate manner. I'm actually more prone to sprawling, railroady rambles sans-THC.
When my partner smokes with me, it's always in the evening and we usually listen to records and hang out until it's sitcom time. Without an actual task, Ebb & Flow dragged me down to the dreaded couch-lock while my partner worked away, chirping, "I can't usually write when I smoke, but tonight I can!"
A few nights ago, after wrangling our sticky, emotional pre-schooler from soccer in the post-eclipse heat, we put Jennifer Castle on the record player and shared a Sweet Tartan pre-roll from Antigonish's Highland Grow Inc. A subsidiary of Biome Grow, which claims to be "unapologetically focused on Atlantic Canada," Highland has Canada's third-largest supply agreement. The company is invested in a Memorandum of Understanding with Halifax's Mi'kmaw Native Friendship Centre, a three-year project that trains Indigenous people to find stable employment in the booming cannabis sector. Khurram Malik, CEO of Biome, says the partnership is "a unique opportunity to demonstrate [our] social responsibility...and truly be part of the community we operate in."
While Sweet Tartan is without CBD, it matched the terpene profile of Namaste's Durga Mata 2. They share energizing limonene, muscle-relaxing myrcene and terpinolene, also present in rosemary, tea tree, nutmeg and lilacs. This unique terp can help boost cannabis's therapeutic benefits, and makes for a dark and raunchy taste in both strains. Distinct from DM2's terpene profile was caryophyllene-oxide, a prominent terp that narc dogs are trained to sniff out. Found in basil, hops, black pepper and oregano, when the internet said Sweet Tartan tasted "sweet" like "vanilla and pineapple," my partner calmly shook his head and said, "No."
However, the Tartan smoke is dense, the kind of smoke you could exhale clouds from forever from one puff, which I love. Mentally, it is the "clearest" Relax strain of the three. In fact, I condensed copious notes from the multiple studies cited into the bite-sized info of this article, and researched all the terpenes that very same night. Sweet Tartan gave my partner "a focused and creative energy that makes it easier to focus well on one task," whereas during the Durga Mata night he put "medium effort into multiple tasks." I've also smoked a roach of Sweet Tartan this morning while reading more terpene studies to digest into my rewrites of this article! We'll see how my editor feels, but I'm pretty sure Highland's Sweet Tartan offering could be my new work-friendly way to Relax.

Correction: One of our sources for information about Aqualitas turned out to be very mistaken, and on July 29 we revised the story to make it reflect current facts. For example, Aqualitas is not the first LP to grow organically in Canada, as we reported, but it is the first to receive the cannabis-specific Clean Green agricultural certification. Also, the koi fish used in the aquaponic system live out their natural life span at Aqualitas, rather than being sent, as we said, to aquariums at homeless shelters. And cannabis grown in the aquaponic system isn't on the market quite yet, even though we told you Reef's Ebb & Flow is raised aquaponically. We apologize for the errors.
———

Lucy LaPlante reviews cannabis for The Coast and our weed-focused site The Reef.