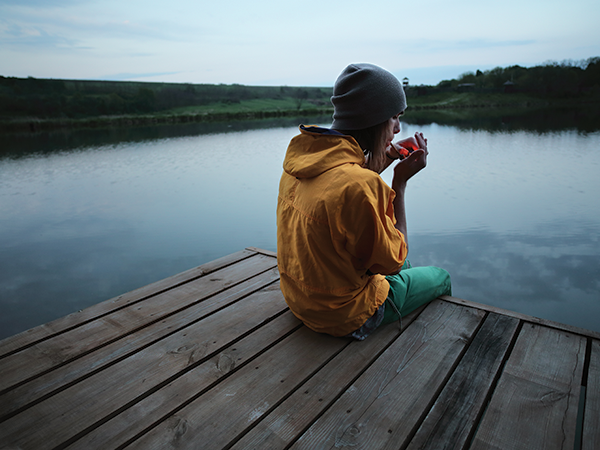 I've been intrigued by the Centre section of NSLC Cannabis since legalization. The verb conjures the kind of #successfulstoner energy I'm trying to emulate: A mindful dope-smoke inhale that envelopes an overactive imagination, sensitivity/anxiety and hamster-wheel thoughts, whose exhale releases a more present, clarified and laid-back self. As a medical patient, getting baked/blitzed/greening out is rarely a priority, instead I most often use cannabis to gather my mind, body and spirit back together.
Centre at the NSLC refers to sativa-leaning strains that offer a "balanced" and "grounding" experience of physical and mental effects. Most times I've hit the LC, the Centre strains I'm interested in are out of budget or sold out completely, lost to our country's National Weed Shortage.
But finally a one-gram jar of Aurora's Banana Split, a best-selling product from the LC's Centre division, was at my disposal. "Born in the foothills of the Rocky Mountains," says Aurora's website, "we've been growing some of the safest and most thoroughly tested medical cannabis on the market since 2006." The 160-acre farm of Aurora's yesteryear has expanded to eight production facilities over the past decade, and the company entered the New York Stock Exchange to become the second-largest cannabis company in the world.
But back to my lil nug: The NSLC employee asserted Banana Split's popularity, a mellow mood-boosting strain that's been flying off the shelf. Lime leaves and crystal-dusted colas made the signature NSLC "crunch" as I dusted my brittle gram into a tropical smelling joint. Banana Split could be defined as a second-wind strain, an after-dinner conversation-stimulator and general mood-brightener. I shared it with my partner and a family friend, and the mental stimulation charged through us individually while connecting us all, tethered to its uplifting vibe. Banana Split will make you feel present within a group but still grounded in your own body, a focusing buzz rather than dreamy distraction. I micro-dosed alone for an afternoon of writing/research and felt like my spine got zipped up from the core, helping align energy into productivity. It checks out that this giggly, cheerful strain is one of legalization's most sought after.
Napali CBD, a 2:1 CBD/THC strain from Haven Street, also evoked an in-tune and focused energy, but I felt quite sensitive to my surroundings when trying to work after smoking. I was more inwardly present than with the sociable Banana Split and felt the urge to retreat, journal and meditate rather than keep up a conversation. The strain has a unique savoury greens smell with a musk of mushroom, or "like catnip left in a bag for months" as described by my partner. It's high in terpene Ocimene, a "herbaceous" oil compound found in hops, kumquats, basil, orchids and pepper. Ocimene is a staple in strains like OG Kush and Sour Diesel, giving them a woody, citrusy smell and providing an energy boost when consumed. While I usually write/think with a vigourous tonic of loud music and stimulation, I needed quiet surroundings to balance my racing post-Napali inner-dialogue. These weren't paranoid thoughts necessarily, the buzz was quite mellow thanks to its high CBD percentage. It was refreshing to mute any external noise and find an inner-alignment.
Napali CBD would be an excellent strain for someone who wants to Centre on themselves and enjoy the harmonious heightened awareness that cannabis consumption can bring.