It was always a dream for Dr. Diana Li and Dr. Franklyn Chen to take their medical practise to a higher level by opening a college. After completing their PhDs in Acupuncture and Traditional Chinese Medicine and working in the field for over 30 years, they knew it was time.
"When you're practicing, you can only treat so many patients. If you have a college, you can train many students to be qualified acupuncture practitioners by passing on your knowledge to them, so more people can be helped," says Dr. Li. She and Dr. Chen opened the Canadian College of Acupuncture & Traditional Chinese Medicine (CCATCM) eight years ago, and they are noticing a rise in the usage of acupuncture and other TCM practices.
In the last two years they've had an influx of patients come in asking for nature procedures like acupuncture, Tuina, acupressure massage and fire cupping, and currently the industry in Nova Scotia only has about 100 acupuncturists. There aren't enough practitioners for public demand, so CCATCM graduates help fill that need. Complementary health providers — such as physiotherapists, chiropractors and massage therapists — are adding acupuncturists to their teams.
A common misconception is that acupuncture is strictly used for pain, but considering its 5,000-year history, Dr. Li begs to differ. "We aren't just treating pain like headaches, whiplash and sciatica. We treat anxiety, depression, allergies, strengthen weak immune systems, help with chronic issues and specialize in female conditions. We have a natural fertility program and have 432 babies as a result from the treatments," she says. Since the new year the practise has had 10 new fertility patients because of its effectiveness.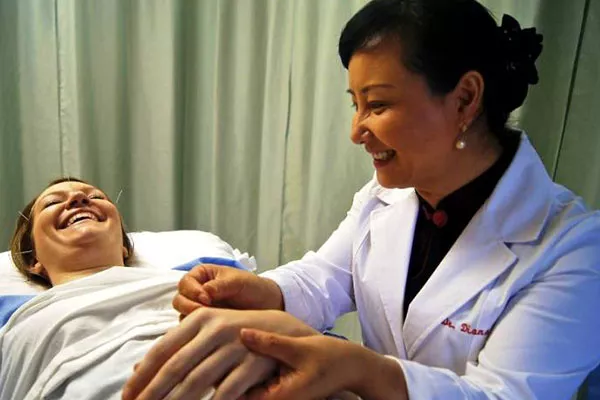 Dr. Li is a spokesperson on behalf of the Canadian Acupuncture Federation and is proud of the rewarding lifelong career that she has led. "If I could turn my life back, I would do the same thing over again. We're helping thousands of patients, and our program is one of the best. Our students not only are able to help external patients but also their family, friends and children. They can give the gift of a healthy life to their families," she says.
The acupuncture program at CCATCM is a three-year diploma, with the first and second years being in classroom, and the third completing 550 hours of hands-on clinical practice which gives students invaluable experience working with hundreds of clients. The progam can be completed as a two-year intensive option with intakes in January, May and September. Students usually have a 2.5-day study week, so can go to school while maintaining a part-time job and their personal lives. CCATCM is the only school for acupuncture approved by the Department of Labour and Advanced Education, and students in the full-time program can apply for student loans.
The program sees a variety of students enter, from 18-year-olds starting their first career, all the way to people looking for a fulfilling new role at age 59. Dr. Li has seen natural medicine professionals choose the acupuncture diploma to add on to existing credentials, and has even trained doctors and nurses who normally specialize in Western medicine.
Through the lens of traditional healing, students also learn TCM diagnosis, whole health and herbs, anatomy and physiology and enjoy classes in self healing like Tai Chi, QiGong and Yoga. "Students learn a career they can practice their whole lives," says Dr. Li, "that involves helping people in a more natural way."