The sunlight is pouring through the windows inside 5663 Cornwallis Street's suite 101, splashing on the hardwood floor and puddling on a folding table that's littered with bits of newsprint and bottles of glue. A wall-mounted magazine rack shouts headlines in a variety of fonts from the far corner, while the gallery-white walls boast works by 20 different professional collage and assemblage artists. "The main medium for me is collage," says Rhonda Barrett, artist and curator of Cuts & Paste Gallery, peeling errant glue flecks and paper scraps from her hands as her current canvas-in-progress holds her gaze from the opposing wall. "And I always joke that I'm literally stuck to it—but I am, I just can't get away from it."
Barrett traces her love of collage back to her childhood in "rural, outport Newfoundland": "There were no art classes. There were no art stores. And so you literally had to look in your home and say: 'What do I have? What can I use?' Paper was available." To her, the medium is "the height of creativity" because it requires the artist to look at an existing item in a new way: "The greatest creativity you can have is to look at an object, and you're being told what this object is," she begins, pointing to the metal ruler on the table by way of example. "And then for somebody to look at that and say: 'Well, it's a ruler, yes. But how else can I use it?' and then to repurpose it in such a way that you almost forget that it's a ruler."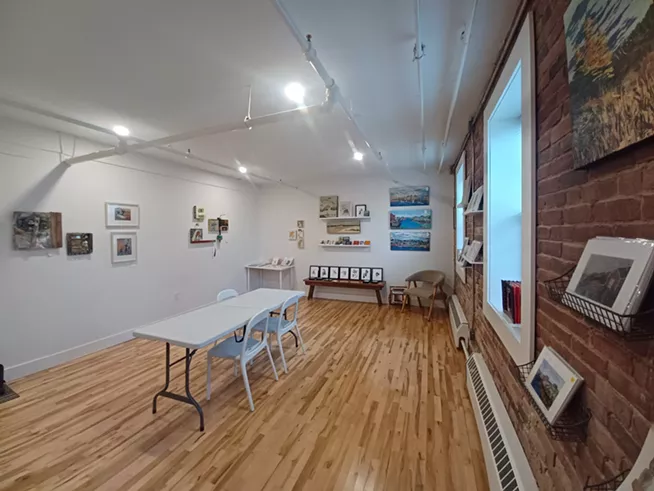 She's come a long way from the time in childhood that she revamped a chest of drawers with images from a discarded Vesseys seed catalogue: Now, she's representing artists in her chosen medium from across the country, in Canada's first-ever gallery dedicated exclusively to collage and assemblage art.
Barrett looked at 20 spaces before she happened upon the small, subleased room on Cornwallis Street that's one door over from Eyelevel Gallery's former digs. Tucked away inside an exposed-brick former factory-turned-office-building, she hopes it'll be a foothold for Halifax's burgeoning collage community: Aside from being a space selling and displaying works of professional collage and assemblage artists, the space offers yoga on Tuesday evenings and Sunday mornings and has the option for folks to drop in and make their own collages during the space's open hours.

It's coming at the perfect time: Along with Barrett's space (which is having its grand opening event January 28 from 6-9pm), another sign that collage has arrived in Halifax is found in the form of the almost-year-old Halifax Collage Collective, which hosts regular pop-up collage making nights, often at nearby Radstorm.