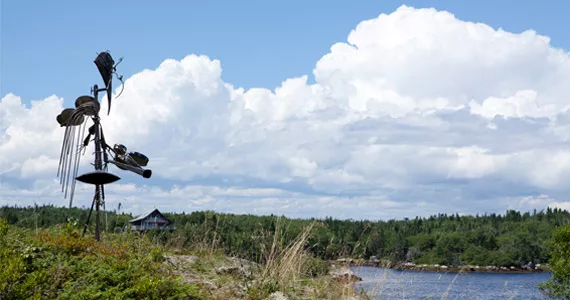 When asked how long they had been preparing for the show, Erin Donovan pipes up: "Our whole lives." Everybody laughs. It's not true, but it is.
Burnwater is a multi-disciplinary performance taking place this weekend in East Dover on the land of local blacksmith and sculptor John Little. Little makes sound sculptures; elaborate forged compositions that look like something Alexander Calder might make for Steve Reich. "I build these contraptions," says Little, "and people come along and do things with them that I never would have imagined in a million years."
Little's sculptures have been used by classical musicians and composers, dancers, jazz musicians and at least one notable opera singer. He tells a story of a man who came by his shop only to be found bellowing into one of the pieces. "He said he just wanted to find out what it would sound like to sing into one of these things."
Donovan, artistic director of Hear Here Productions, has been equally inspired by Little's work. "We've known each other a long time. I purchased one of his sound sculptures which I now use in performance a lot." Donovan, a trained percussionist, first saw the piece used in a concert. "It wasn't until two years later that I called him and he said he had just sold it to a gallery. But after a long chat we found out we had a lot of friends in common—my first percussion teacher, he knew. A few days later he called me back and said 'No pressure, but I broke my arrangement with this buyer.' After we'd talked, he realized he didn't want it to just be sitting in a gallery; he wanted it to be played. And then I said, 'OK, now I'm buying it for sure.'"
Several of Little's sculptures will be used during the performance of Burnwater, in addition to actors and dancers interpreting stories of his life and land. Actor Chris Little will be performing alongside Theo Pitsiavis, guiding attendees through the paths and rocky shoreline of the property. Choreographer and Mocean Dance's artistic director Susanne Chui has integrated a group of dancers into the mix.
"Nothing in the piece came from anywhere else but here," says Chui. "Every idea, every inspiration, everything that we're using except maybe a few costumes, came from being here. We let it come to us like blank slates, sort of like the way John lets people come to him."
"In some ways it's a mysterious thing to everybody," says Donovan. "But we're all linked by these notions of what compels us to be here in this place. This place is like a lightning rod for creative activity. People just seem to want to come here."
"It's been astonishing to us," Little says. "In 44 years it's been nonstop," When asked what sorts of people come to this place: "Well, George would be the classic example. About two-and-a-half years ago there was an 83-year-old Chinese photographer who was dying and had two months to live. He wanted to do one last project that was unlike anything he'd ever done before." George Ling's final project was a series of black-and-white close-up images of Little's forged work. "Never in my life have I become so close a friend with anyone in such a short period of time."
Donovan talks about imagination, suggesting the importance of cultivating it like one would a garden. This weekend in East Dover is the perfect time to start doing just that.
---
2013 Sobey Art Award Exhibition
Opening September 14 to January 5
Art Gallery of Nova Scotia, 1723 Hollis Street