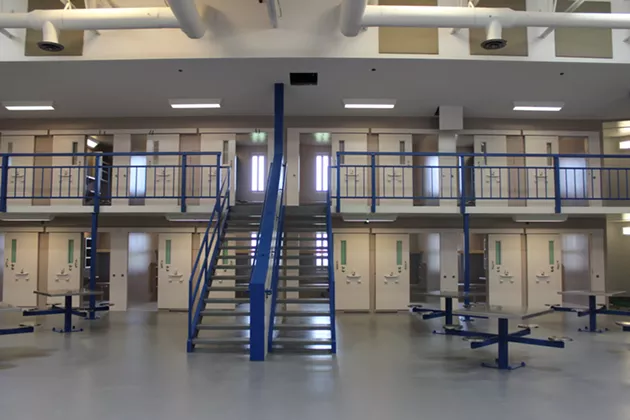 The department of justice is arguing against claims made by prisoners inside the Central Nova Correctional Facility who say they don't have access to adequate health care, rehabilitative programs or healthy food.
Justice spokesperson Sarah Gillis says everything is under control inside the infamous Burnside prison, where inmates have been engaged in a peaceful protest since this past weekend.
"The Central Nova Scotia Correctional Facility is operating as usual," Gillis writes via email. "Demonstrations or protests of any kind are not taking place."
Prisoners inside the Central Nova facility
published an open letter
earlier this week stating they've united in a non-violent protest demanding changes to what they call inadequate and unjust conditions.
"The changes we are demanding to our conditions are reasonable, and must happen to support our human rights," reads the letter,
which was published
on the
Nova Scotia Advocate
and
Halifax Examiner
websites.
"The organizers of this protest assert that we are being warehoused as inmates, not treated as human beings. We have tried through other means including
complaint
, conversation, negotiation, petitions and other official and non-official means to improve our conditions. We now call upon our supporters outside these walls to stand with us in protesting our treatment."
The inmates make 10 demands, ranging from indoor exercise equipment to use during the winter, better air circulation, personal clothing (including shoes that fit), access to the prison library and more humane health care.
Healthier food is also one of the demands, including more nutritious options in the prison canteen and more respect for individual dietary needs.
Gillis, however, says those conditions are already being met.
"Correctional Services provides healthy food to inmates and respects any cultural dietary needs," she writes.
The spokesperson also fires back against the claims made by inmates that they need access to more substantial rehabilitative programs.
A wide range of programs are already available to prisoners through community-based partnerships, Gillis says. They cover areas such as substance abuse, anger management, employment readiness, parenting and education.
"Our responsibility is to keep inmates safe and our goal is to help them rehabilitate so that they successfully reintegrate into the community," she writes to The Coast.
Those programs aren't always effective, however. As
detailed in this week's cover story by Moira Donovan
, former convicts who do take part in rehabilitative programs still struggle with discriminatory employment practices once they leave prison.
The inmates at Burnside say what rehabilitative programs are available are "little to no" help in getting the work, education and life skills needed to become productive members of society.
"We need programs that address mental health and addiction problems; that teach us employable skills; that help us to learn financial management and other life skills; that help us build healthy relationships with our families; that help us reintegrate into society."
El Jones,
Examiner
writer and prison reform advocate, says
in an interview with the Advocate
that the demands from the Burnside inmates are "all very basic" and that none of the claims about prison conditions
are
contentious.
"We have known of these issues for a very long time. We have seen the
auditor general reports
, we know about the gaps in mental health care, the government
confirmed the air quality issues
during the heatwave, the
filthy conditions
. None of this is a surprise, all of it is valid."
[
Update:
Here's
an interview
Jones conducted with NSGEU president and correctional officer Jason MacLean, corroborating many of the conditions and complaints made by the inmates inside Burnside. ]
Jones suggests those on the outside can help show their support by calling the justice department or their MLA, writing letters and bringing attention to the cause through social media posts.
An information meeting on ways to help the inmates will be held Thursday, August 23, at
6pm
at the Glitter Bean Cafe on Spring Garden Road.